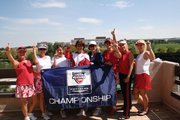 Steamboat Springs — Last year, the women on the Steamboat Red tennis team weren't expecting much when they qualified for the U.S. Tennis Association's Colorado District Championships. They walked away with a state title, but opted out of the sectional championships because of conflicting schedules.
To the women's surprise, the Colorado team that went in their stead won sectionals and a ticket to the national tournament.
So when Steamboat Red made its return trip to districts last weekend in Englewood, the Steamboat women were hoping to defend their title and earn a repeat chance to advance.
The tournament - for players with National Tennis Rating Program levels of 3.5 in the senior's 50 and older age bracket - matched four flights of four teams from across the state in a doubles format. Each of the 16 teams played matches determined by a team's three lines of doubles teams, with the best of the three courts determining the match win.
The eight women on the Steamboat team rotated through the six playing positions and won its three flight matches to advance to Saturday's semifinals against Highlands Ranch. After a 2-1 victory in the semis, Steamboat advanced to an equally close championship match with Cherry Hills Village on Sunday.
"Yep, we beat those country club ladies," Steamboat Red captain Libby Robbins joked.
Both the winning doubles courts of the championship match went to third-set tiebreakers, and Steamboat emerged from both with 10-8 victories.
"It was wonderful - I'm shocked again," Robbins said. "Everything was close and all the teams were a pleasure to play. It was very competitive, and everyone was supportive."
Now six of Steamboat Red's members - Bonnie Baggenstoss, Robbins, Janet Liefer, Lola Schlapkohl, Sandy Jenny and Donna Randolph - will travel to Boise, Idaho, on Sept. 28 for the USTA Intermountain Sectional Championships. The sectionals bring together the state champions from Colorado, Idaho, Utah, Wyoming, Montana, Nevada and New Mexico to determine qualifiers for the nationals Oct. 19 in Tucson, Ariz.
"We've played as a team for five years, so as our second year in the senior division, we're thrilled to get another chance to go," Robbins said.
- To reach Dave Shively, call 871-4253
or e-mail dshively@steamboatpilot.com