Breaking News Alerts
Want breaking news from steamboatpilot.com sent to your e-mail or cell phone? It's free and easy to sign up: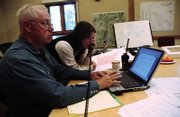 Steamboat Springs — A ban on water use remains in effect today for Steamboat Springs water customers west of 11th Street to the city limits. City officials are meeting with state and county health departments and developing recommendations for people who may have used or consumed potentially contaminated water.
A construction contractor broke a water main Tuesday afternoon at the Bud Werner Memorial Library construction site, leading to the emergency "no water use order." The water main was repaired and pressure restored Tuesday, but the water could still be contaminated. City officials are asking that no water, even boiled, be used for any purpose, including brushing teeth, showering or flushing toilets.
City staff met with the Colorado Department of Public Health and Environment and the Routt County Department of Environmental Health this morning. The consensus from that meeting was that the order should remain in effect while the city waits for the results from bacteriological tests. Those results aren't expected until Thursday morning.
Portable toilets have been set up throughout the west side of the city and cases of water are available at the Stock Bridge Transit Center for residential use. There is a limited supply and a one-case-per-household limit. People are encouraged to bring their own containers to fill up from a water truck at the site.
Assistant to the City Manager Lauren Mooney said the city has received many calls from people who inadvertently used the water and are concerned about adverse effects. She said the city hoped to have recommendations for such people "as soon as possible."
Christine McKelvie, a spokeswoman for the Yampa Valley Medical Center, said the hospital has not seen any emergency room visits resulting from the consumption of contaminated water. McKelvie recommended that people with concerns contact either the Northwest Colorado Visiting Nurse Association or the Routt County Department of Environmental Health.
Areas affected by the no-use order extend from 11th Street west to Steamboat Springs city limits and include Fairview, Dream Island Mobile Home Park, West End Village, Copper Ridge, West Acres Mobile Home Park, Downhill Drive, Steamboat Springs Airport, Riverside Plaza and industrial and commercial areas along U.S. Highway 40 west of downtown.
Areas not affected include Sleepy Bear Mobile Home Park, Steamboat Campground, Heritage Park, Steamboat II and Silver Spur. Also not impacted are Old Town areas north of 11th Street, including Colorado Mountain College, The Boulevard and Uncochief Circle.
Mooney said the city will hold another meeting with local and state officials at noon, will issue a statement at 2 p.m. and will hold a media briefing at 3 p.m. Mooney said costs to the city are being monitored, but she did not have an estimate for what the costs totaled so far.
At about 2:45 p.m. Tuesday, an Adolfson & Peterson Construction crew was searching for a water main with an excavator at the Bud Werner Memorial Library construction site when the excavator hit the line and broke it. The company has been contracted to build an expansion to the library.
City officials were informed of the break at about 3:30 p.m. and sent out a reverse-911 alert later in the day warning residents not to drink or use city water. The system pressure lost when the line broke may have allowed contaminants into the system.
Construction superintendent Mike Knack apologized for the incident today. He said the excavator hooked into a T-fitting on the pipe from an abandoned water line.
"The existence of that T-fitting was a surprise and led to us touching it without knowing it was there," Knack said. "We wish we had X-ray vision and could see through dirt. There's a lot of things underground that aren't documented."
Knack said he expected costs for the company resulting from the break, but he had no idea what those would be.
"We wish it hadn't happened," Knack said. "It's a tragedy and we know we have inconvenienced, to say the least, the whole city. Our big regret is the problems we've caused for everyone up here."