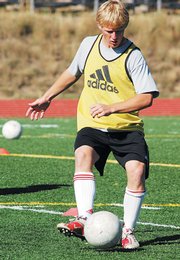 Steamboat Springs — There is no question that controlling Eagle Valley's Cesar Castillo is a key to tonight's soccer game at Steamboat Springs High School's Gardner Field.
"If we are going to find a way to win this game, we will need to stop him," Sailors coach Rob Bohlmann said Monday of the speedy Eagle Valley attacker. "I'm not saying we are going to totally focus just on stopping (Castillo). We can't let one player change the things that we need to do, but we might make a few adjustments designed to slow him down."
Steamboat Springs senior Michael Lyon agrees.
"He's one of the top players in the league," Lyon said. "So we are going to have to keep him in check if we want to win."
Steamboat, 0-3-1, had its best result of the season last weekend in Rifle, where the team earned a 3-3 tie against the Huskies.
Bohlmann said the Sailors played well in the game, and hopes the team can build on that result when they face the Devils on their home turf tonight. Kickoff for the varsity game is scheduled for 5:45 p.m. The junior varsity contest is scheduled for 4 p.m.
"I'm really excited to play this game," Lyon said. "Especially after what happened last year - hopefully we can get them back."
Last season Steamboat tied Eagle Valley at home, and then lost to the Devils on the road. Lyon would like to turn the tables on the Vail team this time around.
But the Devils are off to a fast start in the 2007 season. Eagle Valley topped Middle Park, Coal Ridge and Palisade in games earlier this season, and has not surrendered a goal in its past two games.
But Bohlmann is optimistic about the Sailors chances.
"If we play well, we should have a positive result after this game," Bohlmann said.
Bohlmann said he was encouraged by the way the Sailors attack improved last weekend, and believes with a little more effort, the team will pick up an elusive first victory.
"Right now we are looking to make that next step that will bring this group of players together as a team," Bohlmann said. "I think the game against Eagle Valley will give us an opportunity to make that step."
-To reach John F. Russell call 871-4209
or e-mail jrussell@steamboatpilot.com