Lesson plans bring wilderness to North Routt classroom
Tuesday, September 11, 2007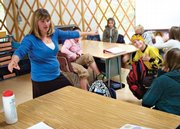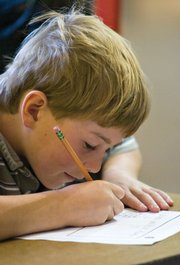 Clark — The educational experience at North Routt Community Charter School may not be survival of the fittest, but Head of School Colleen Poole says the school's mission of expeditionary learning does make for "hearty" students.
Cross country ski trips, Friday backpacking jaunts and mountain biking treks are just a handful of the adventurous experiences afforded to the school's 51 students in kindergarten through eighth-grade.
"Expeditionary learning is a lot more than taking trips," said Poole, who noted the school has nearly outgrown the historic schoolhouse that has accommodated the charter school since its inception in 2000.
"Expeditionary learning is how you organize classrooms and immerse kids into projects," she said. "They are completely surrounded by the subject in their surroundings, and it has shown to get them really eager about learning."
In Katy Reddy's sixth-, seventh- and eighth-grade classroom, an awareness of survival - the topic of this fall's multi-faceted "expedition" - is present in all classroom lessons.
Survival-oriented books in upcoming lesson plans include "Into Thin Air," Jon Krakauer's tale of a disastrous trip up Mount Everest; "Touching the Void," Joe Simpson's account of a near-fatal climb in the Peruvian Andes; and "Downriver" by William Hobbs, a story about seven teenagers who attempt to raft through the Grand Canyon unguided.
"You have freedoms in what you teach, but there is always a catch," said Reddy, an experienced rafting guide who also has worked in traditional school settings. "We have to come up with these trips and lead these trips ourselves, which can become more work than what a traditional classroom is."
Raring to go
Tessa Lindahl, 12, said she is excited for her second year at the charter school because administrators have told her they are going to "bump up" the adventure experiences for the older students.
"My family is all about fishing, backpacking and camping and things like that, so I'm obviously into the outdoor experiences," she said. "But we also get a lot of one-on-one teacher time, which has helped my math."
Third- and fourth-grade teacher Amy Cosgrove said the innovative school, which is sponsored by the Steamboat Springs School District, is traditional in the sense that it reflects the local community.
"The parents have made a commitment that this is the way they want their children to learn," she said. "For a lot of these kids, this is their community school. This is the neighborhood school. These are the kids they play with on Saturdays and who they hang out with."
Tessa will join eighth-grader Andrew Cosgrove on a Friday trip to the Breckenridge Outdoor Education Center for leadership-oriented outdoor activities.
Poole said adventure options will continue to expand but stressed that the charter school is first and foremost a center for education.
"Students take Colorado Student Assessment Program tests, and we have full academic programs, and we report to the state," she said. "This is just a different way of learning. Some kids really thrive in this kind of environment, in this smaller setting. This is what the community up here has asked for."