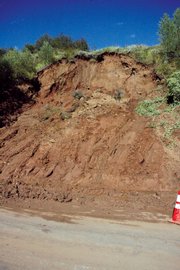 Steamboat Springs — The property owner of land involved in a Thursday night mudslide does not believe the slide was caused solely by natural occurrences, and is considering legal action against both the Yampa Valley Electric Association and Routt County.
"To say that I am angry would be to put it very mildly," said Valerie Perea, who lives in the Tree Haus neighborhood on William Road, above the mudslide.
Perea said a YVEA trenching project on River Road compromised her hillside and led to the slide. She said she finds it "very suspicious" that after owning the land for 31 years without problems, the slide occurred a week after the trenching. She said the county also was negligent for not requiring YVEA to take more precautions while working in a historically unstable area.
YVEA spokesman Jim Chappell said Sunday he was unaware of the trenching and would be unable to comment until later today.
Road and Bridge Director Paul Draper confirmed that YVEA was doing trenching in the area to lay a conduit for an electric line, but said he does not believe the project played a role in the slide.
"I don't think it was, not with the amount of water we saw," Draper said. That's my opinion. I think it was coincidence."
Thursday night, a large amount of earth - carrying entire trees and large boulders with it - slid about 75 feet down a hillside directly below the Tree Haus neighborhood just outside city limits. The slide is approximately three-tenths of a mile north of the intersection of River and Mount Werner roads. Draper believes the slide was caused by heavy rainfall in the area last week that compromised an existing slip plane beneath the surface.
Perea agreed the slide was a natural occurrence, but believes it was precipitated by YVEA's trenching and wouldn't have occurred otherwise. She believes YVEA compromised tree roots on the hill, weakening its stability and leading to the slide.
"They destabilized my property is what they did," said Perea, who is seeking legal advice. "If it keeps eroding, I could lose the road to my house - or my house."
Perea said repairing the hillside will be very costly and that her goal is to have YVEA pay for it.
"To stabilize the slope now will take big bucks, and my hope is the electric company would recognize they have a certain responsibility in what happened and take responsibility for the repair," Perea said.
There also was a magnitude 2.7 earthquake three miles south-southwest of Steamboat Springs on Thursday, according to the U.S. Geological Survey, but officials believe it is unlikely that it contributed to the slide.
"I'm not going to say it's impossible, but usually we see landslides with much larger earthquakes," said Don Blakeman, an earthquake analyst at the National Earthquake Information Center in Golden.
Also, the quake, at 12:37 a.m., was much earlier than the slide, reported at about 9:45 p.m.
"If the times are right on, that would lend a little strength to it," Blakeman said.
River Road was closed after the slide until 8:30 p.m. Friday and again on Saturday from 8 a.m. to 4 p.m., Draper said. He said work would continue in the area periodically during the next couple of weeks as the county works to stabilize the hill and also repair and clean a ditch along the road.