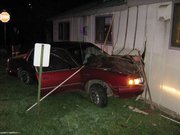 Steamboat Springs — An allegedly drunken Steamboat Springs man drove his speeding car into the living room of a Walton Pond apartment early Sunday morning, injuring only himself and leading law enforcement on a brief chase that ended in his arrest.
Kyle Terry, 25, remained in Routt County Jail as of Sunday evening on nine misdemeanor charges, including driving under the influence of alcohol, and one charge of felony eluding. Steamboat Springs Police Officer Gerard Geis said Terry drove into the living room of an apartment occupied by five men "in their 20s and 30s," who were all sleeping in bedrooms adjacent to the living room.
"They were sleeping a couple of feet to each side of where (Terry) hit," Geis said. "We were happy to see that nobody was hurt in the apartment."
Sunday evening, a gaping hole in the side of the one-story building was covered with wooden boards. A resident at the apartment declined to comment on the incident, the second catastrophe at the Walton Pond complex in three days.
Geis said the crash was not related to Thursday morning's suspected murder of 1-year-old Brianna Simon. Luz Devina Cisneros, 33, was arrested Thursday on suspicion of killing Brianna, her only child, after an argument with Brianna's father at their Walton Pond apartment. A Routt County Sheriff's Office deputy at the Routt County Jail said Sunday night that Cisneros currently is in custody in Pueblo County, but is due to return to custody in Routt County "in a short period of time."
The suspected murder occurred just a few buildings away from the site of Sunday morning's crash.
Geis said the incident began at about 12:45 a.m., when Terry passed Geis in a four-door sedan while driving eastbound on U.S. Highway 40 near Trafalgar Drive.
"A vehicle traveling very fast passed me, and almost hit me and the car in front of me,"
Geis said. Terry "continued to go eastbound at a high rate of speed - about 90 miles per hour."
Geis said Terry took an abrupt right turn onto Weiss Drive - one of Terry's misdemeanor charges is failure to signal - before totaling his car and damaging personal property in the apartment at 890 Walton Pond Circle.
Geis said Terry suffered minor injuries in the crash and immediately fled the scene. With help from the Sheriff's Office, Terry was caught "about five minutes later" in the parking lot of a nearby inn, Geis said.
Terry lives about 100 yards from where the crash occurred, Geis said. Terry's other misdemeanor charges include driving with a suspended license, speeding, reckless driving, weaving, resisting arrest, leaving the scene of an accident and not wearing a seat belt.
He is scheduled to appear in Routt County Court on Nov. 13. As of Sunday evening, Terry was in custody at the jail on a $5,000 bond.
Geis said Terry was visibly intoxicated at the time of the accident, but his blood-alcohol level will not be known for eight to 10 days, pending toxicology reports.
- To reach Mike Lawrence, call 871-4203
or e-mail mlawrence@steamboatpilot.com