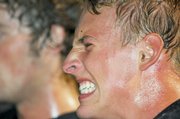 Steamboat Springs — It's not hard to know what wins football games in the Western Slope League.
With the majority of teams loving to grind it out on the ground and - proverbially - punch opponents in the mouth, the four playoff spots at the end of the year are often determined by the less glamorous, defensive side of the ball.
That said, and despite giving up more than 300 yards of offense to Palisade in Friday night's loss, coaches of the Steamboat Springs High School football team feel the Sailors defense is close to stopping opponents and getting the offense on the field with more regularity.
"We're getting there. Defensively, we're really close to getting this understanding of how this defense works," Steamboat coach Aaron Finch said after Friday night's Western Slope League opener, which dropped Steamboat to 1-2 overall.
It should have been suspected the defense would struggle early on. With Nigel Hammond, Alex Wood, Cole Krahenbuhl and Mac Marsh as the only starters who saw significant playing time last year, Finch said changing parts in and out of a defense as aggressive and complex as Steamboat's was going to take some time.
Considering the 3-5 front had to replace the three inside linebackers, Finch said the progress to this point has been encouraging.
"I'm impressed with how far they've come," Finch said. "Defensive coordinator (Lonn) Clementson has done a tremendous job bringing them along."
While Finch was intrigued by the defense heading into Friday's upcoming game at Eagle Valley, he said Sailors offense isn't close to approaching its potential.
He said that with a relatively new offensive line, a complex playbook and a tough schedule, the team has struggled to find that ever-important offensive rhythm.
"Offensively, I don't think it's anywhere close to the potential it has to be," he said. "Part of it is me as the offensive coordinator figuring out what we can do. We're learning what we can and cannot do."
A continuing bright spot for the offense has been the play of first-year starting quarterback Austin Hinder. Despite throwing a pair of interceptions Friday night, Finch said Hinder has shown a command of the offense not expected from a sophomore.
"Austin's played so well, I think we forget sometimes he was a sophomore playing against one of the best teams in the state with a different look and some great athletes," Finch said. "He's really done some great things."
Although the offense and defense still have a way to go, Finch said the most encouraging thing to come out of Friday's game was the effort and intensity he saw on the field.
It's something he knows he'll need to see every week from here on out if the Sailors are to be one of those four teams to earn berths to the playoffs from the Western Slope League.
"I think they are starting to believe that they can be good. So now it's, what do you do to make that happen?" Finch said. "You just have to redouble your efforts."
- To reach Luke Graham, call 871-4229
or e-mail lgraham@steamboatpilot.com