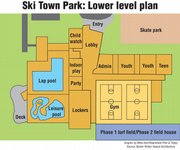 Steamboat Springs — There's no rest for the weary when it comes to the supporters of a proposed $34 million recreation center at Ski Town Fields, the fate of which will rely on voters' appetite for increased property taxes come this November's election.
For more than a year, the recreation center's proponents have fought just to get a facility on the ballot. That was finally accomplished at a Sept. 4 meeting of the Steamboat Springs City Council. The Citizens for a Community Recreation Center since have registered a campaign committee with City Clerk Julie Jordan, moving their fight from council chambers to city streets.
Jordan said Brad Piske, a Steamboat Springs Swim Team board member, came to her to form the committee. She said no opposing interests have come forward yet to form a campaign committee, which is required for organized electioneering by the Colorado's Fair Campaign Practices Act.
"Before anybody does any sort of public campaigning, they need to call my office," Jordan said.
Jordan said although the city has no local sanctions for campaign violations, it requests everyone abide by state laws. Reported violations are forwarded to the Colorado Secretary of State's office to be reviewed by an administrative law judge. However, Jordan said the cases are rarely resolved prior to the election, and that they require large commitments of time and money.
"Unfortunately, we have had instances in the past when rules have been violated," Jordan said. " But I don't think I've ever seen outcome from the Secretary of State's office."
While no recreation center opposition has formally organized for the campaign, the proposal has plenty of detractors, most of whom are against the property tax increases and don't believe the facility justifies its price tag.
The construction, operation and maintenance of the center would cost Steamboat taxpayers up to $3.4 million in additional property taxes next year - not including user fees - according to the ballot language passed by City Council. That increase would mean an additional $33 a year per $100,000 of estimated market value for residential taxpayers and an additional $121 a year per $100,000 of estimated market value for commercial taxpayers, according to calculations by Bob Litzau, the city's interim finance director.
Some have claimed that the proposal is just a hyped-up push for improved facilities for the swim team, and others say the facility is unnecessary because of Steamboat's abundant outdoor amenities. Shannon Lukens, also a Steamboat Springs Swim Team board member and Citizens for a Community Recreation Center member, said the facility is about much more than the indoor swimming pool.
"It's everything Steamboat doesn't already have," Lukens said. "It's great to be outdoors, but we can't be outside all the time."
Steamboat mother Michelle Diehl said there is a need in Steamboat for a safe place for kids to have fun.
"Just knowing local kids, there's a huge need for a place for kids to hang out," Diehl said.
As proposed, the recreation center would include youth and teen facilities, a double gymnasium, an elevated walking and running track, locker rooms, a six-lane indoor lap pool with a diving well, a warm leisure pool, artificial turf fields, an indoor playground and a fitness center.
Pat Carney, director of the Old Town Hot Springs health and recreation center, said she agrees the city has unmet recreation needs, but she doesn't believe the Ski Town Fields facility is the wisest use of $34 million.
"I just think it's too much money for what we're getting, and there are too many unknowns," Carney said. "But you never know what taxpayers are going to do."
Carney said she is in favor of expanding recreation facilities at Old Town Hot Springs and Howelsen Hill.
"I feel like having recreation facilities downtown is important because that's where the kids are," Carney said. "That's the solution that makes the most sense."
Carney said that option would allow students to walk or bike to recreational facilities from school, whereas the Ski Town Fields option will increase traffic on the east side of town. She noted that many kids already are traveling to Howelsen for Winter Sports Club activities and iceskating.
George Krawzoff, the city's transportation director, said there has been no study into the Ski Town Fields recreation center's effect on traffic, if it is constructed.
"To my knowledge, transit has not been part of the discussion," Krawzoff said. "That area is not typically where we have problems. Our problems are from Third to 13th. I don't see the traffic being a critical issue."