Steamboat fumbles away, has six turnovers in loss to Palisade
Saturday, September 8, 2007
2007 Sailors Football
* -- State playoff game.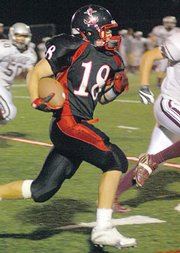 Steamboat Springs — Steamboat's getting close.
The Steamboat Springs High School football team is getting closer to shutting opponents down on defense, getting closer to finding a rhythm on offense and getting closer to winning football games.
While the final score was Palisade 28, Steamboat 10, it's hard not to like what took place at Gardner Field on Friday night - the Sailors looked as good as they have all season.
But when a team like Palisade comes to town, six turnovers and a woeful first half translates into a loss.
"We shot ourselves in the foot, but we never stopped playing," Steamboat coach Aaron Finch said. "The team's finding its heart. The good thing is talking to our captains, there is never any doubt or doubt in each other."
In the Western Slope League opener, the two teams combined for 11 turnovers - including 9 fumbles - and 13 penalties Friday night.
But whereas Steamboat struggled to capitalize on Palisade blunders - turning five Palisade fumbles into only 10 points - the Bulldogs turned the six Sailor gifts into a win.
"There was a lot of hard hitting - a lot of hits that caused turnovers," Bulldogs coach John Arledge said. "You really can't be upset about that. Both teams had some stupid turnovers, but overall, most of the turnovers were a result of hard hitting."
For Steamboat, when the game went bad, it went bad quick.
In the first quarter alone, Palisade ran 11 plays, had three possessions and went up 7-0 - thanks to an 8-yard Zach Adair run - before the Steamboat offense even took the field.
When the Sailors offense finally touched the ball, Matt Lettunich caught a swing pass, turned upfield and then had the ball jarred loose.
Five plays later, Bulldogs fullback Aaron Wagler scored from three yards out to give Palisade a 14-0 lead halfway through the first quarter.
All told, Steamboat fumbled three times within the first five minutes of the game, ran one play on offense and held the ball for a total of eight seconds.
Steamboat seemed to gain some momentum towards the end of the first quarter, when Palisade's Logan Hylton caught a pass and fumbled, giving the Sailors possession inside the Bulldogs 35-yard line.
But on the next Steamboat offensive play, the Sailors once again fumbled, giving possession and momentum back to the Bulldogs.
After both teams had to punt, Palisade put together its most sustained drive of the game, only to come up empty-handed.
Inside the Steamboat two-yard line, Palisade fumbled giving Steamboat back the ball.
Finally, in the third quarter - after both teams came up empty on two drives - Steamboat got back in the game when sophomore Austin Hinder hit Alex Wood in the flats. Wood made five tacklers miss on his way to a 43-yard touchdown, cutting the Palisade lead to 14-7.
After Steamboat's Ben DeLine trimmed the Palisade lead to 14-10 with a little more than 11 minutes left in the fourth quarter, Steamboat seemingly had the momentum.
But Palisade turned to its workhorse, Adair.
On Palisade's first possession of the fourth quarter, Adair - who finished with 195 yards on 23 carries and scored three touchdowns - took a pitch off the left side and ran 78 yards for a touchdown and an insurmountable 21-10 Palisade lead.
"We had it. We were there. We just have to go out there and get it," Wood said. "We had it in our grasp, but against a team like Palisade you can't go have plays like that."
The Bulldogs picked off Hinder twice in the fourth quarter and Adair capped off the win with a late 5-yard touchdown to end the game.
Despite the loss, Finch said he can sense that the Sailors are on the brink of becoming one of the better teams in the league. The Sailors will have to be next week, when they visit 2-0 Eagle Valley on Friday.
"We're getting there," Finch said. "Honestly, we really are."