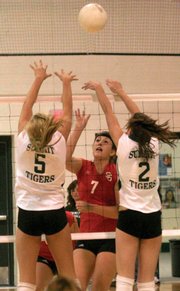 It's too early in the high school volleyball season for the Summit Tigers to hit the panic button, even if they have been swept in both of their home matches.
"It doesn't matter," Summit High School coach Gary Sorensen said after his team lost to Steamboat Springs, 25-22, 25-14, 25-16, on Thursday. "This is still the preseason - the time for us to identify mistakes and fix them."
Senior hitter Kim Baker, who recorded four kills against the Sailors, echoed her coach's sentiments following the Tigers' post-match huddle.
"We're still pretty positive overall," Baker said. "We played well against a hard team. I was expecting us to do better, but it wasn't a devastating loss."
Summit fell to 1-2, while the Sailors improved to 4-1.
"We played four matches at Glenwood last weekend," said Steamboat's coach, Wendy Hall. "That made a big difference tonight - we played much better."
After the Sailors overcame a slightly slow start, they proved to be less error prone than their hosts.
"We had chances to make runs," Sorensen said. "But we shut off our own water with things like serving it out or getting caught in the net. Those are simple things that we should be able to fix."
"We didn't make a lot of mental mistakes," Hall said. The Sailors "had determination on their faces and they kept the pressure on the whole match."
Baker offered an explanation for the Tigers' serving woes.
"Nerves make (getting serves in) a hard thing," she said. "You could serve perfectly in practice, but once you get into a game, it's completely different."
Summit landed just two aces on Thursday (served by Chelsee Farrell and Ariel Strickler) after amassing a total of 17 in its first two matches.
Despite an array of correctable errors and an errant service game Thursday, the Tigers made significant improvements on defense.
"We had lots of digs that went directly to the setter and set up the transition to our offense," Sorensen said. "Normally, you might get three or four or five of those a match, but tonight, we had six or eight each game."
Farrell led the way on defense by recording 13 of Summit's 30 digs to go along with 7 kills; senior hitter Ariel Strickler had a solid performance with nine kills, seven digs and two solo blocks; and Kelsey Berkley and Rachael Long handled the setting duties with 16 and nine assists, respectively.
Steamboat featured a balanced offensive attack with Heidi Lord and Maggie Kriz converting five kills and Colleen King chipping in four.
The Tigers will compete in Saturday's Bishop Machebeuf Tournament where they will play a minimum of three matches and a maximum of five. Such a busy schedule is apt to help Summit's development like the Glenwood tournament helped the Sailors.
"We made the mistake last year of not front loading our schedule before starting league play," Hall said. "We open (Western Slope) league play Saturday against Moffat County."
Summit won't play a 4A Jeffco League match until Sept. 19 at Golden.