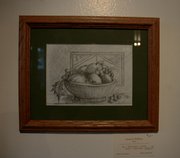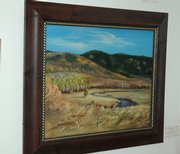 Past Event
Friday, September 7, 2007, 5 p.m. to 7 p.m.
Leisure Mountain Studio, 158 Moffat Avenue, Yampa, CO
Not available / Free
Steamboat Springs — The walls at Leisure Mountain Studio Gallery Coffee are booked through September 2008.
The Yampa coffeeshop/art space has been hanging paintings, photos and other pieces by local artists for a year now, and hasn't had any trouble in keeping images on the walls around its small seating area.
The gallery's guestbook boasts signatures from across Colorado, across the United States and across the Atlantic Ocean, to Northern Ireland.
Debbie Johnson, who owns the gallery with her husband J-Jay, said regional artists can reserve space one month at a time, that way people can just come in and sign up.
On Saturday, Leisure Mountain will hold a reception from 4 to 7 p.m. for its September exhibit, which features landscaped watercolors, oil paintings, photos and pencil drawings by Jeanne Willman and Suzy Pattillo.
Willman was the first artist to have a show at Leisure Mountain last September, and said she has been supportive of the chance for South Routt County artists to have a place to show their work.
"When I heard they were opening, I was just real excited about something coming to Yampa, and I was sort of drawn to it for some reason," said Willman, a Yampa resident who has worked in various mediums for most of her life.
She and Pattillo, a lifelong artist who lives in Stagecoach, get together to paint once a week with two other local artists. For the Leisure Mountain show, each artist has five or six works on display. The art will stay up until the end of the month, from 7 a.m. to 4 p.m. Monday through Saturday.