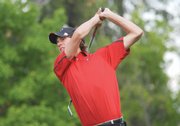 Craig — A day after finishing third at a home tournament in Steamboat Springs, another third place finish had head Sailors coach Steve Dodson disenchanted with his team's Thursday performance at the Moffat County High School boys Invitational Golf Tournament at the Yampa Valley Golf Course in Craig.
"I was a little disappointed," Dodson said. "After Wednesday's finish, I wanted a stronger showing."
The Sailors placed third Wednesday at the Haymaker Golf Course, carding a team total 237 on their home course. Thursday, the team posted a 243 to finish third at the Bulldog Invite.
"I was planning for us to shave off a few more strokes," Dodson said. "Back-to-back tournaments are no excuse and they know it. We just didn't get it done."
"Our No.1 golfer had a blow-up hole, and without that, we would have finished higher."
That number one, Steamboat senior Michael Weston, finished with a round of 77 but would love to take back the 17th hole.
Weston carded a triple bogey seven.
"Everything was going decent until I got to 17," he said. "I hit a shot out of bounds off the tee, and I paid for it.
"I realized on the 18th tee-box, though, that I can't get those back and to just finish strong."
Kaelen Gunderson posted an 81, Billy Taylor, 85, Cam Fritz, 88 and Ben VonThaden, 90.
Taylor was also disappointed, after posting a 79 the day before.
"I had a total off day," he said. "The only consistency I had was that I was consistently hitting bad shots, and I couldn't find the greens."
With one tournament remaining before the Sailors head to regionals, Dodson hasn't decided which four golfers will make the trip.
"Our number one is set, but the two, three and four spots are still up for grabs," he said. "I have several talented kids out here, but I can only take four."
Dodson hinted at the ability to narrow down potential weak points to a single area, working hard, and practice, practice, practice should create a solid game plan for his team.
"They will figure it out," he said. "We are a lot closer to getting over the hump. Every day is different."