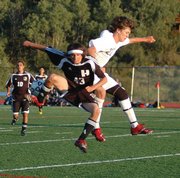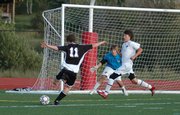 The matchup had been on head coach Dave Cope's mind for the past year.
When his Battle Mountain Huskies hosted Steamboat Springs' boys soccer team last season, the Sailors stunned them, earning a 3-2 win to kick off Western Slope League play.
Battle Mountain returned the favor Thursday at Gardner Field.
The Huskies' fast, play-making offense cut through a Steamboat defense that was the one left looking stunned. Battle Mountain heaped on the goals to shut out Steamboat, 5-0.
"I wouldn't call it revenge as much as concentration," Cope said.
The Huskies' focus started with their first shot on goal. Eight minutes in, Rodolfo Solis ripped a shot from 30 yards out, placing it high in the left corner.
Steamboat sophomore fullback Sam Glaisher yelled, "Better-paced balls - they're all over us" to his defensive teammates, who continued to stave off pressure on Steamboat's end as Solis kept finding open teammates like striker Ricardo Luevanos.
Steamboat goalkeeper Connor Birch had a one-handed, jumping save - one of his six - on Luevanos' best shot, but could do nothing when Solis found a wide-open Davey DeChant streaking on the left side.
DeChant finished that shot and a nearly identical one two minutes later to enter the half with a 3-0 lead.
"I think we played hard for 80 minutes, it's just that we weren't tackling hard and now we can see that's where we need to get to," Steamboat's Daniel Wright said.
The Steamboat defense struggled to collapse on loose balls in its zone early in the second half. Battle Mountain converted a pair of easy, unassisted goals off botched Steamboat tackles and clears, first from Blaze Huega and then from Solis, to go up 5-0.
"This is huge - very huge," said Battle Mountain goalie Jordy Coffey, who made four saves. "In the last 10 minutes, they kept pushing, but all our 'D' was right there."
Steamboat did indeed see its most controlled offense and best cracks at goal - five of its nine shots - in the waning minutes of the second half.
"Where they would've been demoralized, they kept going under pressure and almost scored," Cope said of Steamboat's spirit. "They will be a factor in the league, for sure."
Steamboat coach Rob Bohlmann said the apparent difference between the two teams came down to "the speed of the game, technically and tactically." The Sailors will look to speed things up at 11 a.m. Saturday at Rifle.
"We'll get better. Next time, we'll be ready," Steamboat senior Michael Lyon said.
- To reach Dave Shively, call 871-4253
or e-mail dshively@steamboatpilot.com