Livestock inspections return
Sheriff's Office reinstates part of Ranch Watch program
Thursday, September 6, 2007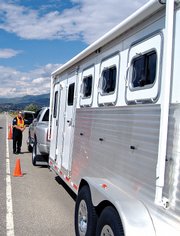 Steamboat Springs — Motorists on U.S. Highway 40 had to hit the brakes Wednesday near the turnoff for Colorado Highway 131, but not because they were being pulled over.
Several Routt County Sheriff's Office deputies and a state brand inspector set up a livestock inspection checkpoint, part of an effort to ensure drivers transporting livestock had appropriate paperwork for their animals and to prevent diseased animals from entering Routt County.
The inspection is part of the Ranch Watch program, which was designed as an outreach effort between the Sheriff's Office and rural Routt County ranchers.
Dep. Kurtis Luster and Dep. Sean Hockaday organized the 2 1/2-hour checkpoint. State brand inspector Daren Clever was on hand for the inspections.
"The main goal is to inspect all the livestock that comes through the county to make sure the owner has all the proper paperwork," Hockaday said.
Only one livestock trailer was stopped during the checkpoint, although the Sheriff's Office intends to conduct at least three more inspections before the end of the year, Hockaday said.
"Even if we don't get a lot today, the word will get out that it's coming," he said.
The inspections also ensure that stolen or diseased animals are not entering the county, Luster said.
"Basically we're controlling the movement of livestock and the health of that livestock," he said.
Clever said the inspections are often met with mixed emotions and can take anywhere from five minutes to more than an hour per motorist.
"If the paperwork is in order, it would take just a few minutes. If it isn't, it could take up to an hour or more," he said. "It depends on the attitude of the people."
Clever said livestock owners who do not have appropriate ownership papers or other documentation for their livestock could face fines as severe as $500 per animal, or arrest.
"I've even confiscated animals in the past," he added. "It's pretty serious."
Hockaday said the Sheriff's Office used to conduct livestock inspections more often before the Ranch Watch program was cancelled under a former administration. With Sheriff Gary Wall's OK, the inspections were resumed.
"We actually had ranchers stopping us and asking us why they weren't being stopped anymore," he said.
Hockaday said ranchers are required to carry their paperwork with them when transporting livestock and could be stopped anytime and asked for the documentation.
"If you're transporting livestock, you'll have to pass through here sooner or later," he said.