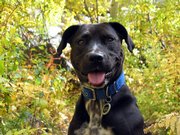 Rob Shoaf was hiking near Dumont Lake on Labor Day with his dog, Pepper, when the 5-year-old Labrador retriever-pit bull mix trotted over a hill and toward a band of sheep.
Moments later, Shoaf was holding his dying pet in his arms after Pepper was attacked by a pack of five Great Pyrenees sheep guard dogs.
"I saw her go in that direction. I called her back. I saw the sheep, and I saw the Pyrenees sprinting toward her," Shoaf said Wednesday. "They were not but 50 feet from me. It was over in 60 seconds."
Shoaf said he and Pepper were about 100 yards from Dumont Lake and 300 yards from the parking lot when the attack occurred at the popular recreation area near Rabbit Ears Pass.
"Five of them were tugging on her in all directions," Shoaf said. He said no herder was present at the time of the attack.
"One had a firm grip on her right hip. The other one had her front shoulder, and the other had her leg," he said. "They kept tugging on her stomach. One would dive in there and pound away. By the time I got there, it was a frenzy."
Shoaf said the dogs scattered once he was within 10 feet of Pepper, who suffered massive internal organ damage and deep gashes to her body.
"She was screaming and crying," he said. "I scooped her off the dirt, I carried her down to the vet to save her life, but she couldn't even lay down in the car because her midsection was pummeled so hard.
"It was horrible. She was in so much pain."
Pepper died a few hours later at Pet Kare Clinic.
"Pyrenees are not typically an aggressive dog, but they can be well-trained and very independent to be programmed to do their job," said Dr. Craig Stanton, who treated Pepper at Pet Kare Clinic. He said the breed can grow up to 120 pounds.
"They are a working dog, and their instinct is to protect the sheep," Stanton said. "If they are properly socialized and not trained for attack, then I wouldn't worry about having them around small kids. Those dogs were not Pyrenees pets."
Erik Taylor, a rangeland and management specialist with the U.S. Forest Service, said there is no specific language addressing the use of guard dogs in grazing permits issued to herders in the Routt National Forest.
"Generally speaking, each year I have conversations with permittees," said Taylor, who noted signs are posted throughout the national forest advising people of the presence of guard dogs.
"I remind them that more people use the national forest and they will have more encounters with people in the public," he said. "In the five years I have been here, there have been hardly any incidents at all with these encounters. It's unfortunate that this situation happened."
Taylor said he is investigating the attack and he has talked with the herder. He stressed there are inherent dangers when visiting national forests.
"Stay away from the sheep. Many of them do have dogs with them to protect the sheep against coyotes and bears and other predators," Taylor said. "So if people are recreating on the national forest, if you see sheep, there will be dogs, and they are protective of the sheep. It's not people they view as a threat. It's another animal. If it's a dog not close to a person, they don't associate that with people and are likely to attack."
Taylor said sheep herding is a way of life in Routt County and that grazing in the national forest dates back more than 100 years.
"These sheep and guard dogs have sort of been occupying parts of the forest for decades," he said. "Obviously the herders can't be with sheep 24 hours a day. When herders are not with the sheep, it's the role of the dog to alert the herder to threats to the sheep. Then they respond to that threat."
Taylor said dogs must be leashed in national forest campgrounds and picnic areas. However, dogs can be off leash in other areas of the national forest as long as they are under voice command.
Shoaf described the incident as "being at the wrong place at the wrong time," but he hopes the loss of Pepper will teach others about what precautions to take when hiking in Routt and Grand counties.
"My position is that if I had seen the herd, I would not have gone around the lake," he said. "If I had seen a sign, I would have gone elsewhere."
- To reach Mike McCollum, call 871-4208
or e-mail mmccollum@steamboatpilot.com