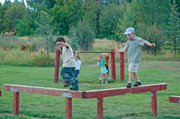 Hayden — Patrick Hunter said the best part about starting first-grade is that he has to study harder.
"I get to do homework now," said Patrick, 6, as he walked a balancing beam at Hayden Valley Elementary School with his friend, six-year-old Matthew Irvine. "It means I'm growing up."
Patrick and Matthew were two of nearly 300 Hayden School District students to return to classes Tuesday, starting a school year marked by one big change - rotating four-day school weeks.
"I don't know what I'll do," Patrick said. "All my friends are at school."
The past two years, students had Fridays off every week from Christmas break through spring break. This year, the school district will use the same number of total Fridays off, to allow time for teacher collaboration. But the new schedule spreads those days out, to twice a month throughout the school year.
Hayden Valley Principal Rhonda Sweetser said she is excited to have Fridays off throughout the school year, so her staff can focus on "professional learning communities" designed to help teachers develop lesson plans and instructional strategies.
"It gives us a good read on how our kids are doing," she said. "Each Friday we have off, we will have a chance to discuss kids and their progress and talk about whether we are meeting their needs."
Sweetser said she is also excited to see the academic progress of the incoming first-graders, such as Patrick and Hunter, who graduated from the school's first kindergarten program last year.
"I think it provides additional education time for them," she said. "There are a lot of kids that are in day care facilities at that age, but this (kindergarten program) is structured as education time with professional staff all-day long."
At Hayden Middle School, Principal Gina Zabel said every school year presents new challenges - such as improving Colorado Student Assessment Program scores - but her staff is especially focusing on student interventions and enrichment this year.
"We are trying to intervene with kids who are a little behind or not grasping the concept areas," she said. "And we are trying to do enrichment work with students outside of the classroom who need a little bit extra, who could be pushed a little bit further."
Zabel said she is also excited about the staff development days afforded by the alternating four-day weeks.
"We will be meeting as a building every other Friday to continue our efforts in interventions and enrichment," she said.
Both Zabel and Sweetser said enrollment at their schools is up slightly, but they noted it is difficult to get concrete numbers during the first week as students continue to register daily.
"We are kind of breaking even right now with kids who have (left the district) and ones who have enrolled," she said. "But we always expect new ones to show up. We really would like to see more."
New Hayden High School English teacher Sonia Salberg said her first day went "great," except for her classroom's lack of air conditioning.
"I didn't realize how hot it got in here, especially with 20 kids," she said. "But they all seemed really excited to learn, which is great for a teacher. They seemed enthusiastic to the material so far."
High school secretary Vickie Parrott said every first day has a certain buzz in the air, but this year, students seem a little bit more at ease and ready to learn.
"The halls are so quiet today," said Parrott. "I hope it's because they are ready to get back, or it could be the calm before the storm."