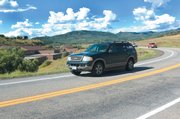 Steamboat Springs — Strawberry Park Elementary School Principal Brenda Barr has been on the job less than a month, but she already has heard a chorus of complaints about the school's congested parking lot.
"I heard about it before I even got here," Barr said. On Tuesday night, she presented a new traffic plan to parents during the school's open house.
Rick Denney, facilities director for the Steamboat Springs School District, developed the plan. It will be implemented Monday, giving school officials enough time to repaint traffic lines, set cones and add signage to direct the flow of cars and buses through parking lots also utilized by Steamboat Springs Middle School.
Dale Mellor, the district's finance director and acting superintendent, said the congestion - which often stops traffic on the schools' one-way entrance and exit roads to Amethyst Drive - has been a problem for years.
"What you are seeing out here really isn't that unusual, with traffic backed all the way up (to Amethyst)," Mellor said. "With more students and less parking spaces because of construction, it is now becoming critical we come up with this new plan."
The one-way entrance will be divided into three lanes as vehicles wind down the drive toward the parking lot. Fourth- and fifth-grade parents will take the lane closest to the elementary school and pick children up in front of the basketball courts. Kindergarten through third-grade parents will take the middle lane, while middle school traffic will take the lane farthest from Strawberry Park.
Each lane, designated by grade level, will direct parents to student pickup areas. Kindergartners will be picked up along the sidewalk of the large island in the center of the parking lot.
"We want to walk (kindergartners) all at once," said Barr, who noted kindergartners will be escorted across the parking lot in one group to the large staging area. "A lot of parents have been parking, getting out to get their kids because that is the safe thing to do, but we don't have the space for it. We want to bring (the kindergartners) to the parents and we will have them individually (ready for pickup)."
Barr also is asking parents not to park in the school's lower parking lot between 2:45 and 3:45 p.m. to allow buses better mobility through the parking lot.
"It may not alleviate all the issues up on Amethyst," she said. "But what we are trying to do is make it quicker, because we had concerns with people parking on Amethyst and having their children running up to them."
Mellor advised parents to utilize car pools or school buses to help cut down on the number of cars in the parking lot.
"We actually have quite a few kids who are riding their bikes now," said Barr.
Students will be sent home with a flier detailing the traffic plan.
Barr said she is also concerned that many parents who are parking to go inside to pick up their children are using handicap-designated spaces, which are used daily by those with legitimate needs.
"The only request we have is that people not park, especially in the handicap spaces, and leave their cars," Barr said. She also noted that parents who have students at the elementary and middle school will often pick up both children on the elementary school side of the lot, further aggravating congestion.
Barr noted that every school year presents new challenges, but the parking plan at Strawberry Park could be a cure that's long overdue.
"I didn't think it was as horrible as everyone made it out to be on the first day," she said. "But then I started to see the details of everything that is going on, and I'm glad we've come up with some possible solutions."
- To reach Mike McCollum, call 871-4208
or e-mail mmccollum@steamboatpilot.com