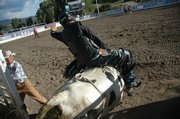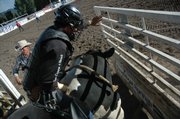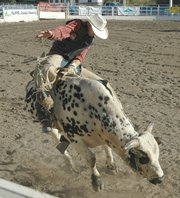 Steamboat Springs — When the Professional Bull Riders' season kicked off at the beginning of October 2006, all was going as planned for Jake Booco.
First, he won the long round of a U.S. Smokeless Tobacco Challenger Tour event in Oregon. Then he got another win in Tennessee. Paychecks started coming in. Booco - rhymes with loco - was beginning to realize his dream of earning a living entirely from riding bulls. He no longer needed to make sporadic trips back to Hayden, his hometown, to work shifts for his uncle Randy's excavating business, Booco's Contract Services.
But in January 2007, he got bucked at the National Western Rodeo in Denver. The bull stepped on his left leg, shattering his femur. Suddenly, Booco, a 23-year-old who graduated from Hayden High School in 2002, was on the sidelines for four months. The paychecks dried up.
The wiry 130-pounder bounced back by May. With a rod in his leg, he jumped ahead in the point standings and is now, nine months later, leading both the Wyoming and the Colorado Pro Rodeo Association's men's bull riding standings.
And Sunday night, Booco got to ride in front of a hometown crowd during the Challenger Tour's Rocky Mountain Bull Bash at the Brent Romick Rodeo Arena. While recovering from his injury has set Booco back - he now is barely cracking the top 200 PBR riders in the world - the Bull Bash gave Booco and 41 other pro riders a chance at a paycheck and, maybe, a ticket to the sport's grandest stage, the Built Ford Tough Series.
Booco pulled the largest cheers from the packed crowd as he charged out of the gate on a bull named Torque in the opening "long round."
"He was a handful. He tried to pull me down over his head - I thought he'd knock my teeth out," Booco said, after Torque turned in left and bucked him after a few seconds.
Despite the result, Booco said he was pleased with the turnout of family and friends in the stands.
"There's not a moment that goes by that I'm not thinking about it. It's the biggest part of my life - I eat, sleep and drink riding bulls," Booco said. "God gave me the talent and the guts to do it and the money makes it that much better. You get to get on the best bulls out there."
Another Colorado cowboy, La Salle's Kody Lostroh, had the highest-point ride in long round on Mad Dog. Lostroh, who finished third in the PBR World Finals and entered Sunday's event as the highest-ranking rider present - 16th - said stakes at the event were high, with points qualifying for this year's finals.
But Lostroh's 87.5-point shortgo ride wasn't enough to match Dustin Elliott. A Pro Rodeo Cowboys Association world champion and North Platte, Neb., native, Elliott stole the show, and the top prize, with a 91.5-point ride on "3 Spot," the PBR's "high money" bull for the season.
"This is so key for me," Elliott said of his first Challenger Tour win, which he expected would land him $6,000. "There's only another six weeks left in the season, but another 5 to 8,000 (dollars) and I'll be in" the Ford Tough Series.
Lostroh, Vernal, Utah's Tony Mendes and Texico, N.M., resident L.J. Jenkins followed Elliott in the top four Sunday night. Visit www.pbrnow.com for more tour details.