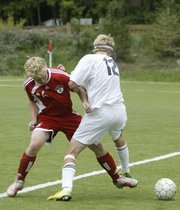 Vail — Ten years ago, Steamboat Springs and Vail Mountain School battled fiercely for the 3A Slope's Northern Division title.
The Sailors edged out the Gore Rangers in 1997, and eventually moved up to 4A. After years without meeting, the Steamboat-VMS rivalry is back. VMS avenged a 2-1 season-opening loss in 2006 to the Sailors on Saturday at Bandoni Alumni Field, taking Steamboat down by the same tally.
For VMS, Saturday's opener was a huge confidence boost, going into its league opener at Colorado Rocky Mountain School on Thursday.
"Last year, we played Steamboat the first game, too, and we lost to them, and I think we've come a long way since then," said VMS' Carder Lamb, who had the game's first goal. "I think it could be a start to a really good season."
Lamb's tally in the 10th minute followed by a strike from teammate Tony Ryerson dropped Steamboat to 0-2 for the season.
"We definitely prepared. We had a nice recovery day (Friday)," said Steamboat coach Rob Bohlmann, whose squad fell at Summit County, 2-1, on Thursday. "I don't know. We were polar opposite. Against Summit, the first (half) was good. The last 40 (minutes were) not so good. Today, it was the opposite. It's a very young group, and now we've got to work on our consistency of play."
'It was perfect'
For a team plagued with the inability to finish scoring opportunities, VMS passed the first test of the year with flying colors. Gore Rangers co-captain Chris Woods served a sensational free kick into the box, and Lamb headed the ball past Steamboat goalie Connor Birch for a 1-0 lead.
"It was perfect. I couldn't have asked for anything better," Lamb said. "I just stuck my head out and hit it, just get something on it and hope it goes in. There's just so many people around, you can't think that much."
VMS coach Bob Bandoni was pleased not only with Woods' brilliant assist, but that the first goal of the season came in the air off a header, an area he thinks will be a strength for the Gore Rangers in 2007.
VMS dictated the play in the first half, but goalie Sean Minett came up with a critical save on a breakaway from Steamboat's Daniel Wright.
"It was huge," VMS' Tony Ryerson said. "It really kept us in the game and kept our confidence up and the momentum on our side."
Ryerson kept it going with VMS' second tally of the day minutes later.
"I just saw the cross from Jackson Higgins," Ryerson said. "Blake (Armstrong) just ducked under it, faked it with his head and then I just took it down, took a touch around the guy and just shot it in. I just tried to be as calm as I could in the box. It makes it easier."
Rally time
Steamboat regrouped at the break and started pressing forward with more support.
"It all starts with the simple thing of intensity of play," Bohlmann said. "We have to apply ourselves. Once we do that, then you can worry how the soccer is. We were able to play with much better effort in the second half. In turn, we were able to change the tide, get more possession and create an attack."
Steamboat junior Josh Fix reaped the rewards of his team's renewed effort with a goal. Steamboat nearly got the equalizer when Kevin Bertrand just missed getting his head on a cross in the waning minutes.
"After the game, I asked Robbie, 'What system of play has five forwards?' They piled everyone up front," Bandoni said. "It was typical of Steamboat, really trying to work the ball around. The greatest accolade is to be down 2-0 at half and have the poise to still believe, 'If we move the ball around, we can still score.'"
Hi, Cope
Saturday's subplot was that Battle Mountain coach David Cope was at Bandoni Alumni Field, doing a little scouting. Steamboat returns home Thursday for its league opener against the Huskies.
"We would expect nothing less," Bohlmann said with a grin. "Cope, after watching this game, knows about as much as I do. We're all over the chart. Hopefully, we didn't show too much other than inconsistency."
While Bohlmann has the same opportunity to check out Battle Mountain on Tuesday at Summit, the Sailors will be staying put in Routt County.
"We have all the respect in the world for them, but most importantly, we've got to stay and train," he said.