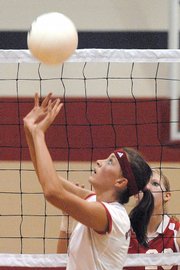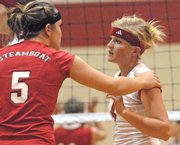 Steamboat Springs — Steamboat Springs girls volleyball coach Wendy Hall was impressed with the resolve the Sailors showed in earning third place Saturday at the Demon Invitational in Glenwood Springs.
Steamboat opened tournament play Friday with an easy win against Meeker (25-15, 25-20) and followed it with a Saturday morning win against Hotchkiss (25-20, 25-20). Hall said both teams presented scrappy opponents that were outsized, but were "defensively just as quick if not quicker," keeping the ball in play and extending rallies.
Steamboat faced the tournament's best team, Grand Junction Central, on Saturday afternoon to determine who would advance to the championship match.
Steamboat had the game-winning serve three times in the first game, but couldn't put Central away. Although Steamboat staged a comeback in the second game, Hall said the team could not shake a nasty early season habit of repeated hitting and serving errors.
While Central easily defeated Glenwood in the championship match (25-14, 25-16), Steamboat had to cross town to another gym in fifteen minutes for its third-place match with Denver Christian. Hall watched the team pull together for its, "most dominating match of the weekend." Steamboat won, 25-14, 25-14, to take third. Not only did Steamboat clean up its game and notch 23 kills, but Hall said the team bounced back in ways that don't show in the stat sheets as players demonstrated newfound leadership and team-building dynamics.
"We bounced back in a hurry," Hall said. "I'd see a ball drop between two girls and they'd talk it out themselves - that shows a lot of maturity."
Steamboat plays its final nonleague game 6:30 at p.m. Thursday at Summit.
Soroco takes third at Grand Valley Tournament
The Soroco girls volleyball team also took third at a Saturday tournament at Grand Valley.
The Rams came out strong in the eight-team tournament, winning their first two matches of pool play. They beat Telluride, 25-17, 25-22, and then beat host and District 5 rival Grand Valley, 25-22, 25-19.
The Rams sputtered in their third match, losing to North Park, 25-13, 25-22, but the two wins were enough to earn them second in their pool.
In the cross-bracket playoff, Soroco dropped its first match to Vail Christian, 25-17, 26-24. The loss put Soroco in the third-place match with another local rival, Rangely.
"We were exhausted and it was hot in that gym, but my girls just hung in there," said Soroco head coach Kim Reeves.
After losing the first game with Rangely, 18-25, Soroco rallied to win the next, 25-20, and sealed a third-place finish with an 18-16 win in the tiebreaker game.
"With Telluride and Rangely, we got down and were able to come back," said Reeves. "That's huge because last year we got in a lot of holes that we couldn't get out of : I'm very happy with their performance because we're trying to build confidence and now they know they can do it."
Soroco's next game is the much-anticipated showdown with Hayden at 6 p.m. Friday in Oak Creek.