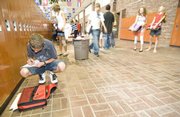 Steamboat Springs — At Steamboat Springs High School, creative scheduling and using nontraditional classrooms is helping educators manage rapid enrollment growth.
"This is definitely the biggest high school we've had," Steamboat Springs High School Principal Mike Knezevich said this week.
The high school has swelled by 30 students this year, for a total enrollment of 678 students. Similar growth is occurring across the Steamboat Springs School District, causing teachers and staff to work out the kinks of a new school year while handling an unexpected influx of students.
"To compound that issue : we started a new 50-station computer lab at our high school," Knezevich said. The new lab replaced a double classroom, forcing school staff to find additional classroom space.
"By doing that, we lost two classrooms, but that's a great problem to have because teachers have been screaming for computer space," he said.
One solution to the influx of students has been to create a classroom out of Gayle Dudley's career counselor office.
"We've moved her into the media center, which is a plus because it makes her much more visible to students," Knezevich said. "In the past, she was tucked away in a classroom."
Knezevich also has turned a distance learning room into a classroom, and teachers at the high school are rearranging class schedules to make better use of space.
"We are managing the growth," he said. "We are big, but we are not yet bursting at the seams."
Strawberry squeeze
New Strawberry Park Elementary School Principal Brenda Barr said enrollment growth, coupled with construction, is also putting a squeeze on her school.
"We have, for sure, more students than planned for," she said. "Everybody kept telling me we were around 460, but it turned out to be more like around 498."
The modular classroom building that housed Montessori students at Strawberry Park is undergoing renovations, which has forced those students into the school's music room, while music classes are now held on the stage.
Barr said she has placed an emergency order for additional lunchroom tables to handle the growth.
"It's fine right now because they can eat outside, but in the winter, there's no places to sit," Barr said.
The principal also said she is short-staffed and looking to hire a custodian and a Special Education aide.
More funding
Director of Finance Dale Mellor, the school district's acting superintendent, said he doesn't have a total enrollment count yet. Enrollment numbers are due to the Colorado Department of Education by Oct. 1 to determine state funding for the district.
"The reason why administrators think enrollment growth is a good problem to have is because it increases funding," Mellor said. "For each pupil we have, we get $6,670. That is getting us approximately $13 million for the roughly 2,000 students in our district in per-pupil funding."
Mellor said that in January, he provided an enrollment estimate to each principal. Those estimates were determined by taking the number of students last year, minus the graduating class, and adding a kindergarten class.
"In the budget we adopted in June, we estimated an increase in 15 students" across the district, he said.
Mellor won't know until October exactly how many more students than estimated have enrolled in the district, since students will continue to filter in for the next month. But based on current numbers at each school, the figure stands to be significantly higher.
50 students in 10 days
At Steamboat Springs Middle School, Principal Tim Bishop said this week that his school felt the impacts of unexpected enrollment growth on the first day.
"Our challenge immediately is that we had over 50 new students enroll in the last week and a half," Bishop said. He said the sixth-grade class has grown from the smallest class in the school to the largest, with a gain of 27 new students in the past week.
"So now we are facing the issue of space," he said. "That will play a part on how we evaluate our class sizes."
Mellor said the district is committed to keeping class sizes at about 18 students per teacher and that additional teachers will be hired if growth swells classrooms.
"What happens is, we figure how many students they actually have enrolled, and we divide that by 18," he said. "And that is how many teachers they get."
Soda Creek Elementary School Principal Judy Harris said Tuesday that she also welcomed more students than planned on the first day of school.
"We have more than we thought, but like everything else this year at Camp Soda Creek, we'll roll with it," she said. "I mean, who wouldn't want to come to school here? It's a great district."
- To reach Mike McCollum, call 871-4208
or e-mail mmccollum@steamboatpilot.com