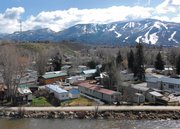 Steamboat Springs — When the goal is to preserve an entire subdivision of affordable homes, cash contributions are vital.
The interim executive director of the Yampa Valley Housing Authority said this week that a $7,000 grant from the Steamboat Springs chapter of a statewide Realtors organization will go toward closing costs associated with the purchase of the Fish Creek Mobile Home Park.
"It's helping to preserve 68 homes that might otherwise have been redeveloped at some point," said Curtis Church of the Housing Authority. "If you lose an entire subdivision, it's very impactful to the community."
The Housing Authority closed on the $3.2 million purchase this month. The $7,000 granted to the Housing Authority by the Steamboat chapter of the Colorado Association of Realtors Housing Opportunity Foundation (CARHOF) was part of a combined $36,136 granted to six local nonprofit housing organizations.
"I am very grateful and proud of the participating Realtors locally," said Dennis O'Connor, local CARHOF chairman. "Over $36,000 spread among these valuable causes really makes a substantial difference to the people of our communities in Routt County."
The other nonprofits receiving grants include Routt County Habitat for Humanity and Advocates Against Battering and Abuse. Habitat will use the funds for new home construction, and Advocates will use its grant to underwrite rent and motel assistance for victims of domestic violence.
The Routt County Foundation for Senior Citizens will apply its CARHOF grant to the replacement of windows for senior housing. West Routt Housing received a grant to help it purchase furnishings and landscaping for affordable housing units for low-income seniors. LIFT-UP of Routt County received a grant that will be used for rent and mortgage assistance programs meant to prevent homelessness.
CARHOF President Amy Dorsey said the statewide organization is attempting to offset a decline in government funding for affordable housing agencies. Specifically, those agencies are seeing sources for funding their operating budgets dry up.
"A decrease in government funding is making it tough for many of these vital organizations to continue to operate," Dorsey said.
Statewide, CARHOF donated more than $485,000 to 80 organizations this year. The organization has grants totaling $5.8 million in the past 17 years.
"That's what CARHOF was created for - to make a difference in peoples' lives," O'Connor said.
People interested in furthering CARHOF's mission can go online to purchase $100 raffle tickets that offer a chance to win a new home in Thornton or $200,000 in cash. Visit www.CARHOF.org.