Photo Gallery
100 years of ranching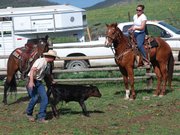 Steamboat Springs — In the past 100 years, the biggest change in running a Yampa Valley ranch, says Jim Stanko, is being able to just run the thing.
"The biggest thing is that ranch income just doesn't keep it going," says Stanko, whose 640-acre deeded plot on Twentymile Road has been around since 1907. "Almost 90 percent of working family-owned ranches do something off the farm to make it pay for itself."
Agriculture, he says, is not always a moneymaking proposition.
Stanko's grandfather ran the operation mostly off of grain. His father, an electrician, and mother, a substitute teacher, kept it going by adding cattle to the ranch and holding second jobs. Stanko, who has worked for the Colorado State University Cooperative Extension office, and his wife, Jo, a former teacher, now run mostly on cows, calves and hay.
"We've hung on for 100 years, but it hasn't been because the ranch paid for itself. It's been because we've worked our butts off doing other things," Stanko said.
It's the kind of work that takes one thing in particular, says Larry Monger, whose family's Mountain View Ranch turned 100 this year: "Perseverance."
100 years in the making
This year, the Stanko Ranch, along with the Monger family's Mountain View Ranch, joined the five other Routt County properties that are recognized as Colorado Centennial Farms.
Receiving the designation at the Colorado State Fair on Aug. 24, the two families were added to a list of more than 300 family-owned farms to get the honor. To qualify, a working ranch or farm has to have stayed in the same family for at least 100 years.
The program is a recognition of the families in Colorado that have contributed to the state's culture by working the land for more than a century, says Mark Wolfe, deputy state historic preservation officer for the Colorado State Historical Fund.
"When you think about the West, you think about frontiers, and the family farm and ranch are really the building block of that history," Wolfe says.
In the past century, agriculture has seen a lot of changes: from its beginnings in cattle ranching, to breaking up into smaller homesteading farms, through drops in crop prices and tempting boosts in land values.
"It was easier to take the big money and bail out than it was to keep doing a farm or a ranch," Stanko said.
When you look at it that way, staying alive is a pretty big deal.
"Compared to the rest of the state, we're fairly new. But with the cycle of big outfits to little outfits to consolidated outfits, we're one of the only ones to survive that cycle," he said.
Not just sitting around
As some of the first permanent settlers in Routt County - Stanko's grandfather bought 160 acres from the Steamboat-founding Crawford family in 1907 - the Stankos and the Mongers, "helped both Steamboat and Routt County grow up," Stanko says.
"Both of those families are very dedicated to agriculture and to the heritage and the values that go with agriculture," says Marsha Daughenbaugh, executive director of the Community Agriculture Alliance. "They're also very committed to their families and to their communities."
Stanko puts it differently: "We didn't just sit out here for 100 years and do nothing, we've also been part of the community for that period of time," he said.
"You look at any of these people that have the century ranches, it's not only that they kept the ranches going for a century, it's that they were involved in the community : I think that's just as important as talking about raising grain and cows.
"Sometimes you think, well everyone seems to want to sort agriculture out of the rest of it, but they forget that the people in agriculture had some major contributions to the valley."
The families were so involved, Stanko jokes, they might have had an easier time of staying afloat without all the extra-vocational activities.
"Maybe that's why it takes a third job or a second job to survive," he says. "If we didn't do all of these other things, we might be able to make the ranches pay."
Pressure to sell
Larry and Mary Kay Monger run a cow/calf operation near the base of Sleeping Giant Mountain. The family's ranching history started with Larry's grandmother working a small homestead plot. His father, Lloyd Monger, took up that land and a parcel on Routt County Road 44.
A sheepherder at the start, Lloyd moved toward cattle during his time running the ranch. Today, Larry and Mary Kay lease the land from a family trust, whose main holder is Evelyn Monger, Larry's mother.
Pressure from developers and a dearth of skilled ranch help have made farm upkeep more difficult in recent years.
"The sign on the wall in there says, 'If I had a million dollars I'd keep ranching until it was all gone,'" Larry Monger says. The sign was made before $1 million was a relatively low price tag for a Steamboat Springs home.
Like the Stankos, the Mongers have found that outside income is crucial to keeping the farm alive. Still, Larry and Mary Kay say they will probably be the last of the family to stay in the ranching business.
"It's a good life, but it's not an easy life, and you don't make a lot of money," Mary Kay Monger says. "Larry and I pretty much do it ourselves, just the two of us, and we're getting old."
The sign on the Mongers' wall holds true - if they could, Larry says, they'd keep going forever - but keeping the ranch in the family keeps getting harder.
"We get a call once a week," he says. "And then a Realtor drops a note in the mail that says, 'Will you please sell?'"
Trying to stick with it
With all of the ranch's original buildings still in tact - a ranch house from 1908, a barn from 1915 and a 1948 machine shed that used to be the dance hall for a now-defunct mining town - Stanko says he doesn't have plans to give up on independent ranching any time soon.
"We're trying to figure out a way that the next two generations at least have something out of this," he says.
Wanting to keep the family business going is part of sticking around for so long, Daughenbaugh says.
"It means that you really and truly believe in what you do for a living and what that land is to you, and that you want to see it continue for your kids," she said.
"It means that they want for their children and grandchildren and great-grandchildren to have that same kind of opportunity with agriculture and with living off the land as their grandfathers did."
There are a handful of area ranches that will be eligible for the century-mark in the next few years, but the number of family-owned operations isn't getting any bigger.
"You look down the road of the possibilities of getting too many more, there's several, but there's not a lot," Stanko says.
"Especially if the price of land keeps going up."