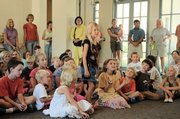 Steamboat Springs — Gina Zedeck said Friday that the first week of school is not only an emotional rollercoaster for children.
"It's sad to see them go, but it's just as much fun for the parents because I get to come and see all of our friends, too," she said.
Zedeck's daughter, Nicole, is a third-grader at Lowell Whiteman Primary School on Oak Street. Nicole joined about 50 kindergarten through eighth-grade students Friday in a celebration of the first week of school. Lowell Whiteman Primary students, parents and staff kicked off the school year last week with the annual three-day camping trip to the base of Sleeping Giant.
"Like always, it was wet," said Heather Yeager, who has two daughters, Teagann and Ainslee, enrolled at the school.
"It was a good way for the kids to get to know each other," Yeager said. "Even if they had never met before, after the three days, they were acting like old friends."
Nancy Spillane, head of school at Lowell Whiteman Primary, said students from Korea and China are enrolled this year.
"It's exciting to have some kind of diversity, which is sometimes lacking in Steamboat," she said.
Students peppered Friday's celebration with a few jokes.
"What do whales spread on their toast?" fourth-grader C.C. Wheeler asked her classmates. "Jellyfish."
Library Specialist Andrea Jamison praised the students' first-week enthusiasm and work ethic.
"It seems like we didn't have a summer vacation," she said. "We came in and knew exactly what to do."
Math and social science teacher Cindy Ruzicka said what she values most about the first week of school is the students' transformation from one grade to the next.
"To see them go from a wide-eyed kindergartener to a knowledgeable eighth-grader is a neat experience," she said.
- To reach Mike McCollum, call 871-4208
or e-mail mmccollum@steamboatpilot.com