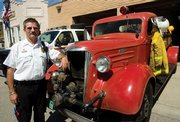 Oak Creek — A lot has changed since Chuck Wisecup began fighting fires in Oak Creek more than 20 years ago.
Acquiring modern firefighting and emergency response equipment, adding personnel and watching the Oak Creek Fire Protection District grow has kept Wisecup busy as fire chief.
On Friday, Wisecup, firefighters and emergency responders lined Main Street with the fire district's fleet of historic and modern equipment, as well as several display boards, to celebrate Oak Creek Fireman's Day. Mike Yurich, of the Historical Society of Oak Creek and Phippsburg, said he asked Wisecup to participate in the day as one of the last events celebrating Oak Creek's centennial.
"For one thing, the ambulance and fire department in Oak Creek is really great," Yurich said. "People know they're here but we wanted to do something to honor them by having a special day for them."
Wisecup said he invited retired fire district personnel and former volunteers to take part in the festivities.
"It's a time for retired or past members to swap stories, reminisce and go, 'Wow, look how far we've come,'" Wisecup said.
Wisecup did a bit of his own reminiscing Friday, as he recollected a few of Oak Creek's infamous fire calls - a train derailment, propane explosions, the day the town's water tank lost 90 percent of its water, and what it used to be like to respond to an incident.
"I'm that old, I remember riding on the back of the truck out to Stagecoach on cold winter nights trying to get your gear buckled," he said. "You don't do that anymore."
One of Friday's highlights was a display of the town's original 1937 Chevrolet fire truck.
"I was surprised it started right up," Wisecup said.
The truck was last used in 1984, he said.
Since then, the district has acquired several new vehicles and facilities, including a water tender, brush trucks and the new Stagecoach Fire Station, which opened earlier this year. With the district growing as fast as it is, Wisecup said a new Oak Creek fire station could be on the horizon.
"I'm a visionary. That's how I got this job," he said.
Wisecup said he loves what he does.
"The thing I enjoy right now is that the district has been status quo for the last 20 years, but it's not static anymore," he said. "It's almost like we're building the department from the ground up, and my goal is to have a model service I hand off to the next chief."
In addition to providing service to the residents living in the 265-mile fire protection district that surrounds Oak Creek, Wisecup is an active community member, educating the public about safety and attending town events including Labor Day and the Taste of South Routt.
"Our second priority is" public relations, he said. "Look at what our voters have done for us. We wouldn't have been able to do half the stuff we have without their support."
Upcoming centennial events include guided Oak Creek Cemetery tours in October and the sealing of the town's time capsule in November.
- To reach Alexis DeLaCruz, call 871-4234
or e-mail adelacruz@steamboatpilot.com