Game statistics
Hayden Coal Ridge
9 First Downs 10
42-295 Rushes-Yards 34-107
2-5-0 Comp-Att-Int 8-21-0
27 Yards Passing 80
322 Total Yards 187
1-30 Punts-Avg. 1-34
2-0 Fumbles-lost 4-3
8-70 Penalties-Yards 9-85
SCORE BY QUARTERS
Coal Ridge 00-00-00-00-0
Hayden 13-13-00-00-26
SCORING SUMMARY
First Quarter
H 6:34, Zathan Bark 1-yard run. (Aaron Haskins kick).
H 4:57, Russell Waugh 61-yard run (kick fail).
Second Quarter
H 4:11, Coy Letlow 16-yard run. (kick fail).
H 1:04, Waugh 18-yard run. (Haskins kick).
Third Quarter
None
Fourth Quarter
None
INDIVIDUAL STATISTICS
Rushing
H: Bark, 13-117, 1 TD; Waugh, 6-98, 2 TD; Letlow, 15-49, 1 TD; Mitch Doolin, 8-31.
CR: Bradey Gasaway, 10-73; Josh Alsop, 14-49; Keenan Grumley 10-(-15).
Passing
H: Doolin 2-5-0, 27 yards.
CR: Grumley 8-21-0, 80 yards.
Receiving
H: Sam Kopsa 2-27.
CR: Tanner Horsey 1-28; Alex Klien 2-24; David Anderson 1-14; Alsop 2-7; Gasaway 2-7.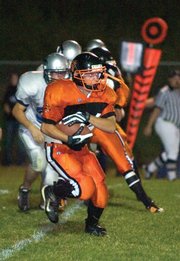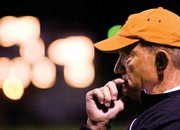 Hayden — Not many people in Hayden would expect to chalk up as a success a game that featured a scoreless second half and starting running back Coy Letlow with less than 50 yards.
Hayden coach Shawn Baumgartner was the first to scratch his head after the Tigers' uncharacteristic home opener Friday night against Class 2A opponent Coal Ridge.
"I just can't put my thumb on it - it was like two different games with two different halves," Baumgartner said.
Fortunately, the Tigers caught some breaks and produced enough offense to take a comfortable lead in the first half, then kept the Titans out of the end zone in the second half for a 26-0 shutout victory.
Hayden's first break occurred after its opening possession. Coal Ridge fumbled the ball on the ensuing possession. From there, the Tigers mounted their longest scoring drive of the game - 6 plays for 42 yards - which started with a 24-yard Sam Kopsa reception and finished with a 1-yard Zathan Bark touchdown run.
After holding Coal Ridge to three and out, Hayden needed only one play to return to the end zone. With the Titans' defense stacking the line to blitz, Russell Waugh took the handoff, cut hard left, threw a mean stiff arm and turned on the jets for a 61-yard touchdown.
Coal Ridge answered with its biggest offensive play of the game. Titans quarterback Keenan Grumley threw a bizarre lateral pass that bounced to Bradley Gasaway, who ran 40 yards. But a fumble gave the ball right back to the Tigers.
The Coal Ridge defense keyed in on Letlow, who had only three yards until four minutes left in the first half, when he broke through five tackles for Hayden's hard-earned third touchdown.
"Defensively, (Coal Ridge) flew around and they made the right adjustments," Baumgartner said.
But while Letlow was stalling, Waugh and Bark stepped in to combine for 215 yards.
"I felt good and I thought the line was blocking good," said Bark, who helped set up a final second-quarter scoring drive after a third Coal Ridge fumble. Waugh converted the turnover into points with an 18-yard run.
The balanced Hayden running attack was all but absent from the third quarter. Coal Ridge inched its way up the field, burning 10 minutes off the clock as Grumley finally started to complete his passes.
Despite the Coal Ridge offensive surge, Hayden's defense stood strong in the red zone. With a first down on the Hayden 4-yard line, Braylin Wertenberger sacked Grumley to kill the Titans' momentum and seal the shutout.
Hayden plays Steamboat's JV squad at 1 p.m. Sept. 8 at Gardner Field.