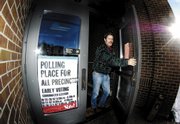 Steamboat Springs — Routt County Clerk and Recorder Kay Weinland said weeks of urging voters to use mail-in ballots or head to the polls early is paying off.
"It's been a great turnout so far," Weinland said Monday. "We had approximately 1,000 early voters in the first week. Usually the first week is pretty slow, but it's been very brisk."
To keep up with demand, Weinland's staff is extending early voting hours to 6 p.m. this week at the Routt County Courthouse Annex. The polls open daily at 8:30 a.m.
"This will also help encourage the working folks to come out and vote early," she said.
Saturday featured the county's first attempt at early voting on a weekend day. Polls were opened in three locations - Oak Creek Town Hall, the Routt County Fairgrounds Exhibit Hall in Hayden, and the Routt County Courthouse Annex in Steamboat Springs.
"Despite the strong numbers so far, we had a fairly light turnout on Saturday," she said. "We had about 150 people between three locations for our first time, but it all adds up, and since everything is going real smoothly we hope that no one is waiting in line on Election Day."
Weinland said a record number of voters have taken advantage of mail-in ballots.
"In the 2005 election, we mailed out 375 total ballots," she said. "This year we mailed out more than 2,000 ballots, and we've received about a quarter of them back. We've received more back already than we even mailed out two years ago."
With 15 Steamboat Springs City Council and School Board candidates on the ballot in addition to three ballot initiatives, Weinland predicts a high voter turnout this year, particularly for an odd-year election.
"I don't know if we've ever had that many candidates on a ballot before," she said. "I think that is really going to bring out the voters. But historically, Routt County has had a good turnout compared to other statewide county turnouts."
"In the past, historically, we have had about 50 percent of people who vote early or by mail," she said. "We are trying to increase that so Election Day we don't have such an impact at the polls. With what we've seen so far, there is no doubt that we will meet or exceed our goal to increase early voting and mail-in voting."
As voters take advantage of more early voting options, Weinland said Election Day has become the end of a voting process rather than the focal point.
"Voting is really a process now that is a month long," she said. "Election Day is now just the last day to vote."