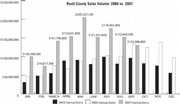 Steamboat Springs — September's real estate volume marked the first time in 2007 that monthly totals have not exceeded those of the previous year. But last month's dollar volume of $132.6 million in transactions was greater than all but one other month last year.
Only September and November 2006 saw bigger numbers than September 2007. But the trend within the trend appears in the way that dollar volume has held up in the face of declining transaction totals.
For example, September 2007 came within half a million dollars of last year's September record of $133 million - with 85 fewer transactions, according to statistics gleaned from Routt County data and tracked by Bruce Carta of Land Title Guarantee.
"September 2007 sale volume reached $132,588,800 with only 189 units sold," Carta said. "Last year we saw 274 units sold for a record sales volume of $133,075,900, a difference of $487,100 - about the median price of a condo at the mountain."
Doug Labor of Buyer's Resource Real Estate in Steamboat Springs offered a different perspective by zooming out to take a look at dollar and unit volume for the three-month period ending Sept. 30.
July, August and September saw 460 transactions closed through the Steamboat Springs Multiple Listing Service, compared to 471 for the same period in 2006. That's a decline of 2.3 percent.
At the same time unit volume was off a couple of points during the quarter, dollar volume rose 45 percent.
Carta's quarterly dollar volume for all transactions in the county, including those not reflected in the MLS, was $461 million.
Jon Wade, a broker/owner at Colorado Group Realty, said the third quarter of 2006 was the period when the pending sale of Steamboat Ski Area, the scarcity of land and the reality of redevelopment at the base of the ski area converged to transform the real estate market.
"August and September last year was the time when things really started coalescing," Wade said. "This September was affected by the credit crunch that hit in early August. But the people who are showing up don't have credit issues. They are market savvy, they know what is going on, and they are here for the experience."
Wade said the new multi-family housing projects under construction are 50 percent or more pre-sold, and that circumstance is reassuring.
"If the market undergoes some consolidation and begins to grow at a little more normal rate, I think that would be healthy," he said.
A year ago, Labor pointed out that the condominium market was particularly tight.
After closing 112 condo sales in the third quarter of 2006, Steamboat entered the winter with a three-month supply, he said.
The current situation isn't as tight as it was last year, Labor said. There are currently 138 condominiums for sale on the MLS, almost a four-month supply. They range in price from $150,000 to $2.67 million.
"Nothing seems out of line comparing what happened in Q3 last year to this year," Labor said. "Everything is going up. And the new construction that won't be closing for another year-plus is not showing in these figures."
There were 108 condo sales recorded in the third quarter of 2007 with a median price of $303,875. The actual selling prices ranged from $157,000 to $1.37 million.
One of Labor's clients made the most expensive Q3 purchase, a three-bedroom unit at Christie Club.