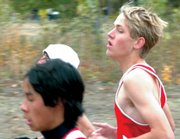 Colorado Springs — The pack mentality, running races together as a team, is something that is preached consistently in cross country. This year, the Steamboat Springs boys team used that approach for success and a state qualification.
At the state meet Saturday, the Sailor boys packed it up, but the results weren't what they had hoped for. The team finished 24th, which was last place of all full teams.
"We were way too far back as a team," coach Matt Reinhold said. "We had a good spread with our guys, but we could have been about a minute further up."
Junior Charlie Stoddard was pleased with the way his team packed it up.
"We came in with the hope to be the second-best team from the region," Stoddard said. "I think we packed it up well, and I thought we had a decent race."
That was before Stoddard and his team knew the results.
When they were huddled around the final results to see that only Stoddard had broken into the top 100, that pack mentality lost some of its magic.
"I have to give (the team) credit because they had the guts to go out hard and together, which sometimes works," Reinhold said. "But it was like we were playing with fire and got burned."
The overcast, calm weather made for ideal running conditions and a great day for fast starts. At least that was the case for the Sailors as they charged to the front in the first mile.
The rest of the 3.1 mile race the Sailor pack slipped farther and farther back.
Reinhold said part of the issue was a lack of experience in big meets. The state meet had 188 competitors.
"We have to schedule some big meets like this next year because our guys were a little too excited to see what they saw today," he said. "We went out with everything we had too early."
Reinhold said he hoped his young team would learn and be ready for a better performance next year.
"Now we know what it takes," he said.
The rest of the Sailor runners were: Sam Chovan, 119; Jackson Wren, 125; John Cutter, 130; Jack Burger, 161; Garret Ehrick, 175 and Cam Niswander, 177.
Battle Mountain, the Western Slope regional champion, dominated the state meet, winning with 55 points.
- To reach David Pressgrove, call 629-9600
or e-mail dpressgrove@craigdailypress.com