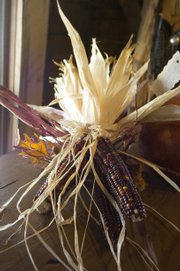 Oak Creek — Bonnie Manke's inspiration for her new Oak Creek business, Nostalgia, was just that - a longing for the past.
"I like the old times," she said Friday, stocking the wooden stove she uses to heat her store. "I enjoy the way it used to be and wanted to bring that back."
Nostalgia, located at the top of Main Street, opened about two months ago. The rustic and authentic home decor store features handcrafted furniture, bedding and other home items made in the U.S.
"I want to bring unique, fun, affordable things to people for their homes," she said. "I believe your home should be an extension of you. I'd like people to come in and get ideas about how to decorate their homes."
Merchandise ranges in price from $5 to $3,000, she said. Customers also have the opportunity to order home decor items from in-store catalogs.
"I've got something for everybody," she said.
A seasonal pumpkin patch complete with dried corncobs and cornstalks brought some much-needed festivity to the store, she said.
"I'm from the East, and I love fall," she said.
Manke plans on bringing Christmas trees and carriage rides to the store as the holidays approach.
"It's a really unique place," she said. "You don't see the kind of stuff I have everywhere."
Manke, along with her husband, Christoph Manke, own Calamity Jane's and Iron Horse Excavating. The couple has closed the restaurant while they negotiate the purchase of the building, she said. The Mankes don't know when the business will reopen.
"We want people to know that we didn't quit," she said. "It was an unexpected circumstance that forced us to stall."
Nostalgia originally was slated to open next door to Calamity Jane's, she said. After realizing renovations weren't moving quickly, Manke decided to open her business in an old home her husband remodeled. The building had been used for storage for about a decade, she added.
"I started with more dirt than Annie (who owns Rio Oso Nursery) next door," she said laughing. "It's unbelievable. I'm still sweeping out dirt."
Manke said she has "fallen in love" with her quaint business and hopes to expand it in the future with candles, cards, fresh cut flowers and items for men.
"We've had a lot of people coming through the doors, which is great," she said. "It seems to be a welcome addition to Oak Creek. People love it."
Nostalgia is open from 10 a.m. to 6 p.m. Thursday, Friday and Saturday.