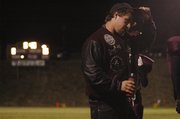 Oak Creek — A group of Soroco High School seniors knelt at the 50-yard line and shed a few tears Friday night after the team's season-ending 47-12 loss to Rangely.
In the last high school football game for the seniors, and the last 11-man game for Soroco, Rams head coach David Bruner said his team left everything they had on the field.
"We played excellent defensively," said Bruner, who noted the Rams kept Rangely's explosive running back, Tim Willis, in check. "But we didn't execute offensively at all, and our offense gave them way too many points."
On the first play from scrimmage, sophomore quarterback Cody Miles was intercepted on a flare pass that was returned for a touchdown. In all, the Rams offense gave the Panthers 16 points off turnovers, including a second-quarter safety and another interception return for a touchdown.
Miles finished with three interceptions, but he scored on a two-yard quarterback sneak in the fourth quarter and was a vocal leader on defense as a two-way starter. Rams senior running back Levi Gonzales added a final score with a 1-yard run with six seconds remaining in the game.
The loss left the Rams (0-5 in league, 2-6 overall) winless in league play in the school's final year in Class 1A 11-man competition. Soroco's enrollment no longer fits that of 1A's 11-man programs (126-275 students), and athletic director Andy Johnson has said the school will join a division of the state's 1A eight-man classification.
Bruner said the move will make Soroco more competitive.
"The last four to five years, we've really seen our enrollment numbers going down and we are playing teams with 220 to 225 (students) in their high schools," said Bruner, whose team dressed only 18 players against Rangely. "This gets us more in line with some other teams competitively."
As the Rams huddled on the field after the game, assistant football coach Devin DuPree told the team that, despite the loss and the long, grueling season, they should savor every moment on the gridiron.
"You learn more about yourselves in tough times than good ones," he said.
"You're looking at the next eight-man championship team," a group of players responded.
- To reach Mike McCollum, call 871-4208
or e-mail mmccollum@steamboatpilot.com