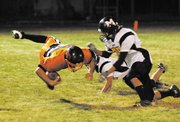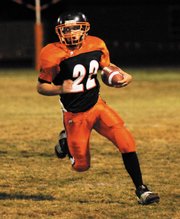 Game statistics
Hayden Meeker
21 First Downs 6
57-280 Rushes-Yards 31-66
5-10-1 Comp-Att-Int 6-8-1
93 Yards Passing 43
373 Total Yards 109
1-46 Punts-Avg. 5-43.2
3-1 Fumbles-lost 3-2
1-10 Penalties-Yards 1-5
Score By Quarters
Meeker 00-06-00-00-06
Hayden 13-14-00-14-41
Scoring Summary
First Quarter
H 6:26, Coy Letlow 1 run. (Letlow kick).
H 0:27, Letlow 13 pass from Mitch Doolin. (kick fail).
Second Quarter
M - 10:54, Tyler Matrisciano 57 fumble recovery. (pass fail).
H - 10:38, Letlow 90 kickoff recovery. (Letlow run).
H 3:30, Russell Waugh 1 run. (kick fail).
Third Quarter
None
Fourth Quarter
H 6:51, Waugh 5 run. (Letlow kick).
H 4:24, Letlow 26 run. (Letlow kick).
Individual Statistics
Rushing
H: Coy Letlow 30-165, 2 TD; Waugh 24-116, 2 TD; Ben Williams 1-0;
Treyben Letlow, 2-(-1).
M: Tyler Gerloff 12-45; Anthony Mazzola 11-17; Matrisciano 8-4.
Passing
H: Waugh 2-3-1 51 yards; Doolin 3-7-0, 42 yards, 1 TD.
M: Matrisciano 6-8-1, 43 yards.
Receiving
H: Aaron Haskins 1-38; Waugh 2-29; Letlow 1-13, 1 TD; Doolin 1-13.
M: Joseph Galvan 1-28; Trenton Schindler 3-14; Tyler Howey 1-2; Brock
Campbell 1-(-1).
Steamboat Springs — What began early this summer - in the Hayden High School weight room and with long drives to practices in Craig and Steamboat Springs - led to where the Hayden Tigers football team stood on Friday night.
After the game, Hayden head coach Shawn Baumgartner reminded the Tigers about where they had started in order to finish their regular season with a definitive victory in a game where the season was on the line.
"You knew what was at stake, and you all stepped it up," Baumgartner told the team after its brilliant 41-6 win against Meeker on Friday night.
Hayden needed the win for any shot at the postseason. And because that win would mean a three-way tie, the Tigers also knew that a big win - by 18 points or more - could guarantee a postseason berth.
Now, Hayden is locked in.
The victory by nearly double the needed amount of points earned Hayden (4-2 in Class 1A Western Slope League, 7-2 overall) the runner-up spot in the league, behind Grand Valley, for the second year in a row. The 16-team Class 1A bracket will be announced Sunday and could very well earn Hayden a home playoff game with a No. 8 or lower seed.
If Baumgartner thought Hayden's recent loss to Grand Valley was a loss in the trenches, Friday's win started with a dominant performance by the Tigers' offensive line - one that helped bulldoze nearly 400 yards of offense, with Coy Letlow and Russell Waugh splitting 54 rushing carries.
"From start to finish, offensively and defensively, that's the game we've been looking for," Baumgartner said. "The offensive line played so well - everything starts with them."
But it was Hayden's defense - namely an interception by Hayden defensive back Mitch Doolin after the Cowboys had driven into Tigers territory on their opening drive - that set up the offense for an explosive game.
Coy Letlow ran for 165 yards and scored four touchdowns for the Tigers. He started it off with a rushing touchdown, then after the Hayden defense forced a three-and-out, capped a 55-yard drive with a receiving touchdown.
"I was hoping we'd come up here and give them a real test, but the bottom line is, they beat the tar out of us," Meeker coach Shane Phelan said.
After Aaron Haskins and Sam Kopsa put another stop to a Meeker drive, the Cowboys appeared to have zero tar at all heading into the second quarter. But Tyler Matrisciano snatched up a costly Letlow fumble and returned it 57 yards for Meeker's only touchdown.
But then the announcer said, "We could run this one back here." And on the ensuing kickoff, Letlow did exactly that, accelerating for a 90-yard return to redeem his fumble.
If there was one play that defined Hayden's grit and the team's ability to halt any Meeker momentum, it was this play, which kept alive Hayden's 59-yard scoring drive and allowed the Tigers to enter the half up 27-6 and cruise to another pair of second-half touchdowns on Waugh and Letlow's heels:
Pinned on their own 42, Russell Waugh threw up a prayer on third and 20.
"I looked up and I saw it started bobbling," said senior tight end Haskins. "I decided to jump up and see what I could do. I squeezed my hand in there between two guys and pulled it down - it's the best feeling I've had all year. Get the first down for the team.
"That's what we do, push on third down."
Meeker's season ends at 4-2 in league. The Cowboys now can only hope for a wild-card selection while Hayden begins practice on Monday for what Baumgartner called the start of the "second season."
- To reach Dave Shively, call 871-4253
or e-mail dshively@steamboatpilot.com