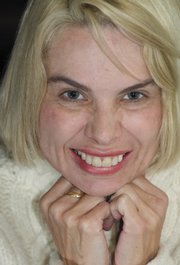 Steamboat Springs — Bee Herz said her first experiences as a psychic medium began when she was a child. At the time, having visions and receiving messages from higher beings was overwhelming and frightening - so much so that Herz would "block" and refuse the information flowing to her.
"I started getting strong intuitions and dreams that would come true. When you're young, that can be very intimidating," she said Thursday at her home near Mad Creek. "There's no guidance for this kind of thing. You just learn to deal with it and hone it. You don't go to psychic medium school. You just don't."
After graduating from the University of Cincinnati, earning her certification in massage therapy from the Kripalu Center in Lenox, Mass., and working as a massage therapist, industrial designer and marketing representative, Herz has chosen to dedicate her life to her passion - channeling information from higher sources.
"You use discernment, you use love and you use kindness," she said. "I don't keep or even remember the information I give you. : I'm just the vessel that helps you heal your soul. It's a healing of the soul."
Herz, who works fulltime as a psychic medium, has worked with everyone from gifted and intuitive children to the elderly to law enforcement officers. She specializes in finding missing persons, a service she offers to families for free.
However, don't expect any Lady Cleo readings from Herz.
"I'm not the 1-800-California-Psychics," she said. "That's not what I do. People get addicted to calling the $4.99 a minute hotline when you shouldn't need a reading more than once or twice a year."
Herz encourages her clients, and anyone thinking about meeting with a psychic medium, to remain healthily skeptical.
"You should always question who you're meeting with on any level," she said. "Know you have free will, and know that the person sitting across from you might be channeling from a higher source, but is still human. It's always good to be skeptical because you'll know in your heart if it's right or wrong."
Herz said she receives messages for clients about 80 percent of the time. She charges about $75 an hour for a reading but offers some discounted and free services for the elderly, disabled, sickly or families with missing persons.
Herz said her readings are very "private and personal" experiences.
"All I ask is what you're looking for," she said. "Most people are calling for a reason. They have questions they want answers to."
Although television shows like "The Medium" have popularized psychic work, there are still huge misperceptions about what mediums do, Herz said.
"I have a gift that can help people, which is why I do it," she said. "It's very rewarding. I know I'm on the right path."
In addition to giving readings, Herz also helps people understand their own abilities to heal.
"My goal is to always give clients tools so they may understand and connect with their life's purpose, heal their wounds and allow themselves to become their true divine selves," she said.
Herz can be reached at 871-4594 or 819-1611 for information about personal readings. Her Web site, www.beeherzpsychicmedium.com, launches Thursday.
-To reach Alexis DeLaCruz, call 871-4234
or e-mail adelacruz@steamboatpilot.com