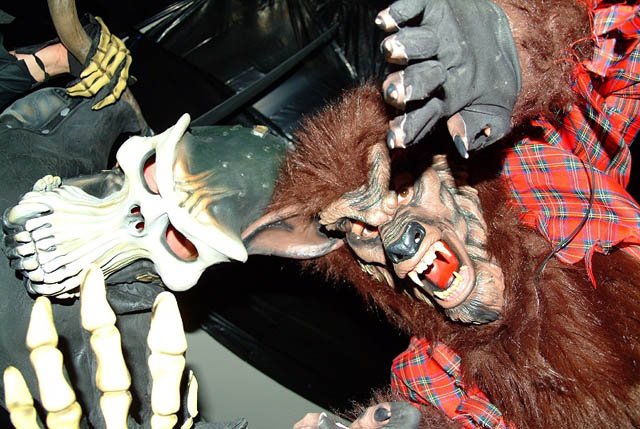 'Screamboat 9' raises money for CMC
If you go
What: Screamboat Chamber of Horror! When: 6 to 10 p.m. today, Saturday and Wednesday
Where: Bogue Hall, Colorado Mountain College campus
Cost: $5
Call: 870-4537
Steamboat Springs — With its ninth annual "Screamboat Chamber of Horror!," the SKY club at Colorado Mountain College wants to make its guests shiver and laugh.
It also hopes to gain from each ticket sold.
"It's our baby, and we benefit from it," said Jimmy Westlake, who teaches astronomy at CMC and organizes "Screamboat" each year.
Funds raised from "Screamboat 9" are split among a science student scholarship fund, a newly established fund to bring an observatory to the college and annual astronomy-related trips.
Last year, the SKY club traveled to Hawaii for a week and a half to see some of the biggest telescopes in the world. This year, 20 or so students will take a pre-Thanksgiving trip to see a 60-inch telescope at Mt. Wilson Observatory near Pasadena, Calif.
"The 60-inch telescope that's down there on Mt. Wilson was the biggest telescope in the world in 1904 when it was built," Westlake said. "Rather than disassemble it, they've set up this program where groups can rent the telescope for the night."
That's what the SKY club will do with the money raised with its latest haunted house, which has a new home - or, as Westlake said, "a whole new place to haunt" - this year in Bogue Hall.
Kevin Wagley, a member of SKY Club and the CMC student government, went on the trip to Hawaii last year and plans to go to Pasadena. Wagley is playing Dr. No in this year's "Screamboat." He has never taken an astronomy class, but said he appreciates the experiential learning the trips provide.
"You get something from going to the classroom and something from hands-on activities, and this was definitely a hands-on activity," he said.
Last year, the haunted house raised a little more than $5,000. It's put on by the SKY club's 20 members and about 20 additional volunteers.
Tickets are $5, and each stub buys a chance to win a snowboard. Westlake said groups are welcome to buy tickets for later times when the doors open at 6 p.m. today, Saturday or Wednesday, and come back later to avoid lines.