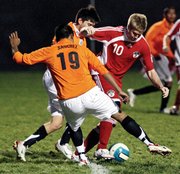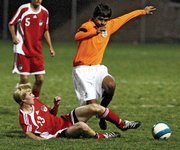 Game statistics
Greeley Central 4, Steamboat Springs 0
SSHS 0 0 - 0
GCHS 3 1 - 4
- Scoring - GCHS, Saul Sanchez-Reyes (Ben Buhler) 2:42; GCHS Sanchez-Reyes (Ever Prieto) 6:01; GCHS, Buhler (Morgan Sacco) 10:29; GCHS, Sacco (Buhler) 45:06.
- Shots - GCHS 21, SSHS 3.
- Saves - GCHS (Jeff Allen) 3, SSHS (Connor Birch) 17.
- Corner Kicks - GCHS 8, SSHS 0.
Greeley — Greeley Central didn't waste any time introducing Steamboat Springs sophomore goalie Connor Birch to the Class 4A state soccer tournament Tuesday at District 6 Soccer Field.
Behind a flurry of shots and two Saul Sanchez-Reyes goals in the first 10 minutes, the No. 5-seeded Wildcats (13-3) ended the Sailors' (6-8-2) season with a 4-0 victory.
"It was definitely a different caliber of play than what we were used to," Steamboat senior Bryce Peters said. "It was a little faster, but I think we stepped up to the challenge pretty good."
Not only did Steamboat Springs coach Rob Bohlmann agree with Peters' assessment, so did Wildcats coach Ian Wale. After Central jumped out to an early 2-0 lead, Wale became frustrated that his team wasn't able to capitalize on many other opportunities, voicing his displeasure from the sideline.
"I thought Steamboat played well, but we are a very talented team," Wale said. "We have a lot of speed, and after 10 minutes tonight, I think my boys thought the game was over, and they relaxed."
Whatever the reason, Birch and the Steamboat defense held the Wildcats to only two goals the rest of the game. That's not easy to do. While winning nine of its past 10 matches, Greeley Central has outscored its opponents, 39-7 and 17-2, in its past four games.
"Connor has been amazing for us this year," Steamboat senior Michael Lyon said. "He really stepped it up, especially when the season got going. In this last game, he was just insane on the corner kicks."
In defending eight Greeley Central corner kicks Tuesday, Birch emerged with the ball almost every time as the Wildcats struggled to put pressure on the goalie with those opportunities.
But Birch faced enough pressure the rest of the game to make up for it. With a majority of the game being played in Steamboat's end, Birch still managed to stop 17 of the 21 shots sent his way.
"I thought our goalkeeper gave a pretty heroic performance," Bohlmann said. "He was under fire, and he did what he could. I thought Connor was solid for sure."
All in all, the Sailors were pleased with their effort Tuesday night.
"I think everybody in our camp is extremely proud." Bohlmann said.
"Certainly, we were matched up against a very strong opponent, but you go out and do what you do, and that's what the fellas did tonight."
Lyon said with the way the team struggled at the beginning of the season, making it to state was a nice way to end the year.
"I thought it was a good year," Lyon said. "First we were worrying about not even making the playoffs, so we were pretty psyched to get in. It was nice to do it our senior year."
Tom Wright is the Greeley Tribune's sports columnist. He may be reached at (970) 352-0211 ext. 11228 or at twright@greeleytribune.com. Read Tom's blog at www.greeleytribune.com/section/BLOGS.