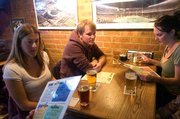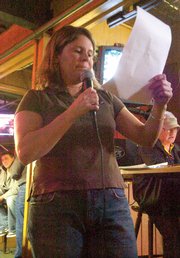 Key points
What: Trivia night
When: 6:30 p.m., Wednesdays and Thursdays
Where: The Tap House Sports Grill on Wednesday, Pirate's Pub (Jade Summit) on Thursdays
Cost: Free; prizes for winning teams
Call: 879-2431 (Tap House); 871-6268 (Jade Summit)
Note: Trivia night at Tap House is canceled the next two weeks due to the World Series and Halloween. It will resume in November. Trivia nights at Pirates' Pub will still take place.
Steamboat Springs — On Wednesday night at The Tap House Sports Grill, teams of six or fewer hunch over tiny slips of paper, mulling over the answers to questions such as, "What band's original name was Mookie Blaylock until concerns about trademark issues led it to change to its current name?"
Those that know the answer - Pearl Jam - are in the running for $30 in gift certificates for the bar and, more importantly, for bragging rights.
At least until trivia host Caitlin Scanlon does it all again the next night at Pirate's Pub.
Scanlon hosts two trivia nights in Steamboat Springs each week, on Wednesdays at The Tap House and on Thursdays at Pirate's Pub. Prizes vary for each bar depending on the crowds, and the questions are different each night.
The pub quizzes - which are popular in college towns and large cities, and originated somewhere in the United Kingdom - are a way for bars to bring in business on slow nights and during slow seasons, Scanlon said.
"The idea is supposed to be to choose the slowest night of the week to bring people in," she said. "That's how the bar makes its money."
Both nights Scanlon hosts have the same format: four quarters with four questions each, in categories ranging from sports to pop culture to United States history. There are two bonus rounds, and a final round where teams can break free from the pack by wagering points.
Unlike the privately-run trivia nights that out-of-towners might be used to, the two options in Steamboat Springs are run by a larger, Boston-based quiz company, Stump! Pub Trivia.
Bob Carney, a friend of Scanlon's, started the company six years ago, and has "trivia jockeys" leading events at more than 90 bars in Boston, and at several locations in New York, New Hampshire, Rhode Island, Texas, Maryland, Washington, D.C., and Colorado.
Scanlon said Carney sends out three sets of questions each week, so those who want to go to both trivia nights won't hear repeats - and can't cheat.
Since she started hosting trivia nights in January, Scanlon said the crowds have grown from two teams in the beginning to a regular turnout of 15 or more during ski season. Once teams are established, Scanlon said, they're likely to compete every week.
"People start coming, and then they go all the time," she said.
And while some regular teams end up near the top of the scores each week - Scanlon said one group of older players at The Tap House would win every week if they played together, but they split up to make things fair for everyone else - the questions and topics are varied in a way to give anyone a chance.