Health care reform proposals
1. Better Health Care for Colorado
• No requirements for individuals to purchase or employers to provide insurance.
• Subsidies for adults who earn up to $61,950 per year for a family of four.
• Benefits capped at $35,000 per year for an individual.
• Expand Child Health Plan Plus insurance and reform Medicaid reimbursement.
2. Solutions for a Healthy Colorado
• Individuals required to have insurance.
• Income tax credit for those with insurance and a penalty for those without.
• Subsidies for adults who earn up to $51,625 per year for a family of four.
• Benefits capped at $50,000 per year for an individual.
• Expand Child Health Plan Plus to less than proposal 1, expand Medicaid coverage.
• Establish a reinsurance pool for claims greater than $100,000.
3. A Plan for Covering Coloradoans
• Employers required to offer insurance or pay assessment
• Minimum benefit plan would include dental, prescription, mental health and substance abuse.
• Merge Child Health Plan Plus and Medicaid and expand coverage.
4. Colorado Health Services Program
• State-based, single-payer program
• Operated like a public utility, a board sets annual budget and determines provider rates.
• Available to anyone who has lived in Colorado for three months.
• Premiums charged through income tax or payroll deductions, which employers may choose to pay pre-tax for their employees.
• Basic benefit package based on Medicaid.
5. Fifth proposal
• Individuals required to have insurance, with a penalty for those without but an affordability exception.
• Subsidies for adults who earn up to $82,600 for a family of four, and a catastrophic care fund for those eligible for subsidies.
• Combine Child Health Plan Plus and Medicaid, and expand coverage.
• Optional government insurance system available to people.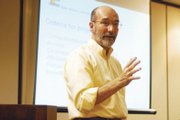 Craig — Members of the Colorado Blue Ribbon Commission for Health Care Reform listened to sometimes angry, sometimes tearful testimony at a public hearing Saturday in Craig.
Commission members Clarke Becker, of Woodland Park, and Steve ErkenBrack, of Grand Junction, gave a short presentation on five possible reform recommendations, ranging from a free market "affordable alternative" program to a government "single-payer" program.
The five recommendations have two goals: lower health insurance premiums and increase access to coverage, ErkenBrack said.
Audience members from local communities and the health care field listened and presented comments afterward.
It did not take long for the audience to show what is at stake for the commission.
The first speaker, local resident and mother Sondra Boyd, talked about her young son, who was born needing a feeding tube to eat. While her health insurance paid for the tube, the insurance company said it would not cover the feeding solution or some of the required medical equipment.
Boyd and her husband pay for those things out of pocket, she said.
"If we're going to go to health care reform, it should be affordable, and the benefits have to be useful," Boyd said. "It should pay for medical equipment, and specialists, and if your child requires a special diet that puts a financial burden on the family. As parents, we should be able to take care of our kids, but the burden can't be all put on us."
Several audience members commented on a local boy's situation. The boy is autistic, but his family cannot find a hospital to treat him.
The Colorado Mental Health Institute in Pueblo won't accept him because autism is not a medical condition, and other hospitals won't take him because he is prone to bursts of violence, said Evelyn Tileston, Independent Life Center director.
His family takes care of the child, and his older sister dropped out of high school to do that, Tileston added.
"This whole state medical hierarchy and the insurance companies should hide their faces in shame because of what has happened to this boy," Tileston said. "This is disgraceful. These people (with autism) should not be left out of anyone's treatment plan."
Drawing on first-hand experience, health care professionals critiqued the proposals' specifics.
Two plans cap benefits at $35,000 and $50,000, which health care officials and audience members called "chump change."
"There needs to be something more to cover catastrophic illnesses people have no control over," said Carl Gills, chief executive officer for the Yampa Valley Medical Center in Steamboat Springs.
Cole White, Craig Northwest Colorado Visiting Nurse Association community care director, cautioned commission members to plan for long-term funding before creating a large health insurance program.
White recounted the history of TennCare, Tennessee's Medicaid program, started in the 1990s. At the time, the program was lauded for its progressive benefits.
Within five years, the state couldn't afford to pay for a lot of those benefits and has cut more and more each year since. Now, that system is a joke because it won't pay for anything, White said.
White also took issue with plans that treat the symptoms of a failing health care system - little access to coverage and expensive insurance premiums - but not the health care system's disease.
"The real disease is the cost of health care," White said. "The rate of providing care is outpacing inflation and people's wages."
Audience members also addressed needs unique to rural communities like Moffat and Routt counties. Some suggested insurances should cover transportation costs when a person has to travel to Denver for specialized care.
The point of the hearing was to garner insight into the needs of remote areas like Northwest Colorado, Becker said. Of the 27 commissioners of the panel, four have rural Colorado roots, including Becker and ErkenBrack.
Becker plans to take all of Saturday's comments back to the other commissioners, he said.
"I feel a responsibility to stand up for those issues on the forefront," Becker said.
Some plans could require tax raises to pay for, which under the Colorado Constitution must be approved by a popular vote.
In public hearings across the state, people have said they will approve a tax increase for a plan that makes sense and will make a difference, Becker said.
The commission first started in November 2006 during former Gov. Bill Owens' administration. Its recommendation originally was due next month, but Gov. Bill Ritter gave the commission a two-month extension until Jan. 30 at the commission's request.
Both governors supported the commission, and the commission has bipartisan support in the legislature, Clarke and ErkenBrack said.
People interested in learning more about the commission or its proposals, or those wishing to leave comments or questions, can do so at www.colorado.gov/208commission.