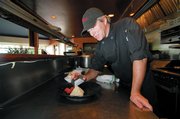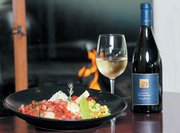 Pan-seared Halibut
Halibut
Ingredients
1 tablespoon olive oil
1 tablespoon butter
Salt and pepper to taste
Halibut
Preparation
Heat nonstick saute pan to medium-high heat. Add 1 Tbsp butter and 1 Tbsp
of olive oil.
Season Halibut with salt and white pepper. Add to saute pan. Saute for 3 to 4 minutes and flip Halibut; saute till flaky and moist (medium-well). Remove from pan and serve with your favorite rice and sauteed vegetables. Top with a generous portion of room temperature balsamic strawberry salsa.
Balsamic Strawberry Salsa
Ingredients
6 tablespoons olive oil
3 tablespoons balsamic vinegar
1/2 teaspoon salt
1 pint fresh strawberries, coarsely chopped
8 green onions, chopped
2 pints cherry tomatoes, chopped
1/2 cup chopped fresh cilantro
Preparation
Whisk together first 3 ingredients in a large
bowl; add strawberries and remaining
ingredients, tossing to coat.
Chill at least 1 hour.
Yields 6 cups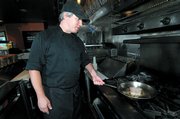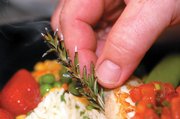 Matt Souder has spent a long time manning kitchens, but the executive chef at Three Peaks Grill is anything but burned out.
"Don't let the gray fool you," Souder said. "I'm young at heart."
Souder talks about cooking like someone who just recently discovered a passion, not someone who has been in kitchens for 25 years. He constantly searches the Internet for new recipes, and he's a perpetual experimenter - toying with ingredients and trying new techniques.
That constant exploration is what Souder loves most about his job.
"I love its never-ending, always-changing form," Souder said. "Every day is a learning experience with cooking."
Of course, Souder's experimentation often results in a successful dish. Take, for example, his pan-seared halibut with rosemary vegetable medley, rice pilaf and balsamic strawberry salsa. Souder said the flaky halibut and fruity - not spicy - salsa make for a refreshing dish.
The dish is presented elegantly with the rice in a pyramid shape and a sprig of smoldered rosemary placed on top. Souder said throwing in bits and pieces here and there go a long way toward presenting a fancy dish.
Souder has cooked from coast to coast - and beyond. He was born in Philadelphia, where his brother is a chef, and he has worked in kitchens in Florida, Boston, Arizona, New Hampshire and Hawaii. Souder's Steamboat experience includes stints at Old Town Pub, Winona's and Freshies. He graduated from the Florida Culinary Institute in West Palm Beach in 1987.
His affinity for seafood dishes was influenced by the time he's spent in coastal cities. Souder said seafood is one of Three Peaks' main attractions, and he works hard to bring fresh fish to his restaurant. If a poor-quality shipment comes in, he doesn't hesitate to send it back, even if that means losing a menu item.
As Souder tells frustrated servers, "To preserve the quality and freshness of the product, sometimes you run out. I'd rather run out."
Being an executive chef at a restaurant of Three Peaks' caliber is a major responsibility. Souder arrives at the restaurant between 9 and 11 a.m. daily, and stays until the restaurant closes late in the evening.
"It takes a lot of hours, but it's worth it in the long run," Souder said. "I get to come into my office and have fun."