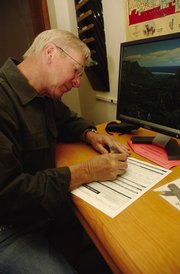 Early voting
- 8:30 a.m. to 4:30 p.m. Oct. 22 to 26 at the Routt County Courthouse Annex
- 8:30 a.m. to 4:30 p.m. Saturday, Oct. 27, at the Courthouse Annex in Steamboat, Routt County Fairgrounds Exhibit Hall in Hayden and Town Hall in Oak Creek
- 8:30 a.m. to 6 p.m. Oct. 29 to Nov. 2 at the Courthouse Annex in Steamboat
Important Dates
Today - Last day to register to vote in Colorado
Oct. 22 - Early voting begins
Oct. 27 - Saturday early voting
Oct. 30 - Last day to request an absentee ballot by mail
Nov. 2 - Last day of early voting; Last day to pick up a mail-in ballot
Nov. 6 - Election Day; polls open 7 a.m. to 7 p.m.
For more information, call the Routt County Clerk and Recorder's Office at 870-5556 or visit www.co.routt.co.u...
The Routt County Clerk and Recorder's Office expects a flurry of activity today - the deadline to register to vote in the Nov. 6 election.
"It's such human nature to procrastinate," Routt County Clerk and Recorder Kay Weinland said Monday.
Those who haven't registered can do so until 4:30 p.m. Potential voters must fill out a voter registration form and turn it in to the Clerk and Recorder's Office at the Routt County Courthouse in downtown Steamboat. Registrations also will be accepted through the mail if they are postmarked by today, or at any other municipal clerk's office.
County officials have been urging voters to take advantage of mail-in ballots and expanded early voting hours to help limit the potential for long lines at the polls Nov. 6.
Weinland estimated her office has received more than 2,000 mail-in ballot requests, which is 10 times the typical number of requests for an odd-year election.
Voters who are already registered have until Oct. 30 to request a mail-in ballot. Mail-in ballots can be picked up from the County Clerk and Recorder's Office as late as
Nov. 2.
The upcoming election is the first for which voters can request permanent absentee status, meaning they will automatically receive a mail-in ballot for every election. County officials are pleased with the response to the new option.
"I think it will continue to grow in popularity as time goes on," Weinland said.
Early voting, which begins Oct. 22, includes Saturday voting and early evening hours for the first time. There will be early voting locations in Hayden and Oak Creek on Saturday, Oct. 27.
Weinland also urged county voters to update their registration if they have moved or changed names, warning there could be problems at the polls for those who fail to make the changes. Voters who try to cast ballots when their registration uses an old name or address will have to vote via provisional ballot or visit the County Clerk and Recorder's Office on Election Day to update their registration and be redirected to the proper precinct.
With the county going back to precinct voting this year, voters can cast their ballots only at the precinct in which they live.