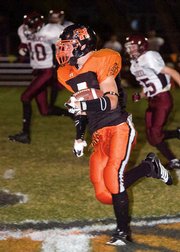 HaydenHayden volleyball beats Soroco in four close games
Soroco may have won the first match with Hayden when the two teams met on Sept. 7 to kick off Class 2A District 5 play, but Soroco couldn't stop Hayden's momentum when the teams met again Friday night.
And this one was for all the marbles - that is, it counted toward the District 5 standings. Hayden won in four games, 25-20, 27-25, 23-25, 29-27.
Hayden was coming off four consecutive wins but took a little while to warm up. The Tigers started slow in the first game but pulled ahead to an 8-7 lead with a big block from Rachael Koehler. Soroco's Darcy Wisecup answered back with two of her three kills in the game to tie the game at 16, but Hayden's Elaine Cromie had a pair of kills to put the Tigers on top, 25-20.
Hayden coach Stephanie Davis noted Cromie's solid play and Kylee Sweetser's plays down the stretch and called the match, "an overall team win."
The Tigers' ability to focus was definitely present in the second game.
A Sarajane Rossi kill and serves from Amanda Wilson had the Rams up, 24-20, a point away from a win. But the Tigers stayed strong and rallied back to win.
"Soroco plays with their whole heart, so I was very proud of this win," Davis said.
Soroco coach Kim Reeves was just as pleased with her squad, most notably so in the third game, which the Rams won, 25-23.
"That one was all about momentum," Reeves said. "Something sparks in my girls, and they just won't give up. They've come so far and impress me in every way with their chemistry."
Hayden pulled off the closest win of the match in the final game, winning 29-27 to put the Tigers at 3-1 and second place in the district. Soroco looks for its first district win at 4 p.m. today in Oak Creek.
- Dave Shively
Hayden vs. Soroco
Hayden Soroco
10 First Downs 9
42-338 Rushes-Yards 34-169
3-5-0 Comp-Att-Int 3-13-1
52 Yards Passing 89
390 Total Yards 258
2-25 Punts-Avg. 5-35.6
5-2 Fumbles-lost 8-4
4-35 Penalties-Yards 4-30
SCORE BY QUARTERS
Soroco 00-06-06-00-12
Hayden 28-07-00-00-35
SCORING SUMMARY
First Quarter
H 10:28, Coy Letlow 60 run. (Aaron Haskins kick).
H 10:17, Mitch Doolin 31 run. (Haskins kick).
H 6:41, Letlow 48 run. (Haskins kick).
H 3:54, Russell Waugh 38 run. (Haskins kick).
Second Quarter
H 10:44, Jake Walker 9 run. (Ty Dunckley kick).
S 4:29, Levi Gonzales 15 pass from Cody Miles. (Kick fail).
Third Quarter
S 9:56, Gonzales 76 run. (Run fail).
Fourth Quarter
None
INDIVIDUAL STATISTICS
Rushing
H: Coy Letlow 4-75, 2 TD; Treyben Letlow 14-68; Waugh 3-59, 1TD; Graig Medvesk 5-43; Doolin 2-30, 1 TD; Walker 4-29, 1 TD; Ben Williams 6-28; Brian Hoza 4-6.
S: Gonzales 6-105, 1 TD; Miles 15-37; Justin Iacovetto 12-15; Jacob Hange 1-12.
Passing
H: Medvesk 2-4-0, 40 yards; Doolin 1-1-0, 12 yards.
S: Miles 3-11-1, 89 yards; Iacovetto 0-2-0.
Receiving
H: Sam Kopsa 1-12; Treyben Letlow 1-37; Murphy Smartt 1-3; .
S: Gonzales 3-89, 1 TD.
Hayden — The Hayden Tigers went two-for-two Friday night during their homecoming festivities, beating familiar Routt County rivals, the Soroco Rams, in a close volleyball match and a not-so-close football game.
By the time the girls on the Tigers volleyball team had wrapped up a fourth tight game in the Hayden High School gymnasium, squeaking out a match win (25-20, 27-25, 23-25, 29-27), the Tigers on the football field were up 28-0 with four minutes remaining in the first quarter. They went on to win, 35-12.
Soroco coach David Bruner knew stopping Hayden's powerful running game would be imperative. But in the second minute of the game, the Tigers stepped up their game, pitching the ball out to Coy Letlow, blocking the opposition's line and letting Letlow do the rest. Letlow stiff-armed his way through the Rams' freshman secondary to a 60-yard touchdown run.
When Soroco fumbled the ensuing kickoff, and Hayden homecoming king Aaron Haskins recovered the fumble, the Tigers were back on the board 11 seconds later as quarterback Mitch Doolin ran one in.
After the Hayden defense stymied a pair of Soroco drives, Letlow and Russell Waugh broke open another pair of long touchdown runs to extend the 28-0 lead - in all, using eight minutes and nine plays for the 164 yards rushing in the four-touchdown effort.
With two minutes remaining in the first quarter, Hayden had its junior varsity line up on the field. Jake Walker's 9-yard touchdown run capped a 73-yard drive to start the second quarter, but that's when the Hayden scoring stopped.
Soroco then orchestrated its best drive of the game. The Rams drove 88 yards in 18 plays with a big Levi Gonzales reverse to convert on a fourth down. Cody Miles found Gonzales streaking to the end zone to cap the drive and put Soroco on the board.
"It's hard going on both sides of the ball, but it feels good - I love it," an exhausted Miles said after the game.
With only three available substitutions to start the game, the Rams had to dig deep. Junior lineman Mike Davis did exactly that. After dislocating his finger in warm-ups, Davis drove to Steamboat to get the finger checked, then returned to play the second half.
Gonzales, who led all rushers with 105 yards, was a trooper, as well. On defense, he chased Hayden freshman quarterback Graig Medvesk down to the one-yard line to keep the Tigers out of the end zone before the half. Then, back on offense to open the second half, he hit another gear on an end-around play to go 76 yards for Soroco's second touchdown.
"It was good for the kids - they played so hard," Bruner beamed about his team's effort. The Rams now sit 1-5 overall and 0-4 in league.
Already looking ahead to next week's anticipated match-up with Grand Valley, Hayden coach Shawn Baumgartner said he hoped his team (5-1 overall and 2-1 in league) would continue improving from the win with an important week of practice.