Nonfiction workshop tries to make business manageable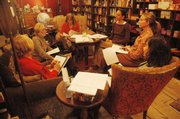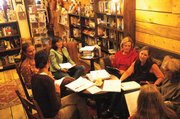 Past Event
Monday, October 15, 2007, 6 p.m. to 7:30 p.m.
Epilogue Book Company, 837 Lincoln Ave., Steamboat Springs
Not available / $250
At a glance
Five weeks to the traditional publishing route
Week 1: Your biography and why you are qualified to write this book - the "elevator speech" or "magic sentence" to sell that.
Week 2: Competitive and complementary market analysis, promotional plan - has it been written, and what else could it go with?
Week 3: Contents, outlines and sample chapters - getting an idea of just what exactly to write.
Week 4: Overview, why it needs to be written and demographic - who will buy it and why it can't be a long magazine article.
Week 5: What it will look like and others - art for the book, query letters, Web sites and more.
Steamboat Springs — It takes a while to become an overnight success.
That's what Jill Murphy Long, author of the "Permission to:" book series, says about getting a nonfiction book on the shelves.
A lot of aspiring writers lack either the understanding or the extra push to make their idea a 300-page endeavor, she said.
"I just think a lot of people have great, great ideas. They just don't know how to get it published," Long said.
Accordingly, Long is offering a workshop detailing how to make an idea palatable to book agents and publishers.
The five-part Monday night series, which starts Oct. 15 at Epilogue Book Co., will cover how to pitch a book, develop the idea, market it and get it sold. The workshop won't be a writing group, Long said - it's an attempt to shed light on a process that's seldom understood before it's experienced.
From writing her books "Permission to Nap," "Permission to Play" and "Permission to Party," Long said she learned to judge the competition and make the series appealing to editors and publishers. To do that, authors-to-be need to have a pitch for their work developed and ready to fire at every writers convention, query letter and chance meeting.
"The tighter you can be in your proposal - if you can really describe what your book's about, then your agent can see your vision, and your publisher can see your vision, and then you can make more money," Long said.
The workshop is meant to provide a plan of attack to achieve that end.
Long said she wants to function not only as an instructor, but as a support crew. After all, she's a little new at this, too - her first book was published in 2002 - and knows writing a 100-page proposal to get a 300-page book to the presses can be daunting. She'd like to keep the workshop group to about 12 people, small enough to provide input and stay personal.
"I think everyone will come to the group with different ideas, which will make it exciting and dynamic," Long said. "I just want to encourage people to pursue their passion on paper."