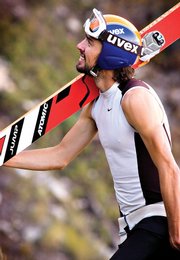 Steamboat Springs — Steamboat Springs' Johnny Spillane raced back into the Nordic combined World Cup spotlight Friday in Kuusamo, Finland with a second-place finish in the opening event of the 2007-08 season.
Spillane, who has battled nagging injuries for the past three years, held off Austria's Christoph Bieler and Germany's Eric Frenzel to place second in the 15-kilometer Individual Gundersen event. Another local favorite, American Billy Demong, placed seventh in the final standings.
"This is kind of what we were hoping to do," Spillane said from Kuusamo Friday. "It wasn't a special day. The jumping was O.K. and I had a decent race: but there are still a lot of things to work on."
Germany's Ronny Ackermann was sixth after the jumping and then posted the 10th fastest cross-country time of the day to win the race with a time of 40 minutes 54.8 seconds. Spillane was 13th after the jumping, but ran a smart 15-kilometer cross-country race to finish 13.4 seconds behind the German. Bieler was just 14.3 seconds back in third place and Frenzel was 14.9 seconds back in fourth place.
Demong, the only other American currently on the World Cup A circuit, finished in seventh place 25.8 seconds back. He was 17th after the jumping.
"We had a good first day. It was above our expectations," coach Lasse Ottesen said. "I think these finishes will give us the confidence we've been looking for. Now we know what we need to work on, and I think we can pick things up on the jumping side."
The Americans can't afford to celebrate for too long. The second event of the World Cup season, a one jump, 7.5-kilometer sprint event, is Saturday in Finland