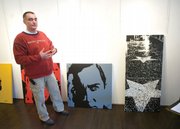 Past Event
Friday, November 30, 2007, 6 p.m. to 8 p.m.
K. Saari Gallery, 837 Lincoln Ave., Steamboat, CO
All ages / Free
Steamboat Springs — Denver artist Rodney Wallace has thought about doing a collection about Hollywood for years.
"This has always been in the back of my head," he said, working in the K. Saari Gallery to hang eight paintings of classic movie stars who are honored on Hollywood Boulevard.
"Every now and then a song just hits me," Wallace said about The Kinks' "Celluloid Heroes," the inspiration for his project of the same name. The show opens with a reception from 6 to 8 p.m. today at K. Saari. Wallace's work is joined by drawing and paintings by one-time Richmond, Va., artists Ron Johnson and Emily Hall.
"Basically, I've been referred to as Andy Warhol on Ellsworth Kelly," Wallace said of his style, which places stark pop portraits on solid, brightly colored canvasses.
The goal is to create contrast, blending Warhol's taste for popular culture with Kelly's penchant for solid colors and straightforward shapes.
To make the "Celluloid" prints - which look like silk screens but actually are freehand acrylic paintings - Wallace took old publicity photos from movie studios and fed them through filters in Photoshop.
"I like it to look manicured, manufactured," Wallace said. He projected those images on canvas, distorting them just enough to avoid copyright infringement.
From there, the works took hours-long sessions of layering black acrylic paint over watercolor pencil - stopping anywhere in that process would have meant dry brush strokes, which would have ruined the silk screen effect.
"I sat stationed there for nine hours painting that," he said of "Hollywood Boulevard," a vertical work of the walk of stars that uses black and white matte acrylics but looks like it's shimmering.
The resulting striking images go hand in hand with Wallace's subject matter, which often has a political theme.
"With my political and social commentary stuff, the boldness is part of the message," he said.
"Celluloid" is a break from a body of work that frequently is socially charged.
With an election year coming up, Wallace said he was "already so pissed off," he thought the celebrity project would be a way to step back from political commentary before he really gets geared up.
Wallace's work is paired in the gallery's main room with Richmond artist Ron Johnson, whose painting and drawings are abstract and texture-driven. Saari said the contrast between the two artists is notable.
"Ron is completely nonfigurative," Saari said, comparing Johnson's dripping layers of paint swirls to Wallace's distinctly featured faces.
Today's opening also features a collection of dimensional drawings called "Raising the Temp." by New York artist Emily Hall. Made of layers of painted paper, the drawings explore space and how people occupy it.
Johnson and Hall will be on hand tonight for the opening reception. Wallace will be at the gallery on Dec. 7 for another opening, as part of a multi-gallery art walk.