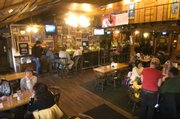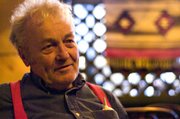 Steamboat Springs — The pending end is bittersweet for The Butcher Shop owner Bill Gardner, who spent last week readying his restaurant for one last opening day.
Like many other longtime Ski Time Square businesses, The Butcher Shop is poised to close and be demolished in 2008 after serving a mix of locals and tourists for decades. The demolitions will make room for new development around the base of the Steamboat Ski Area.
While opening day for the slopes has been pushed back to Nov. 30, The Butcher Shop opened Thursday, because Gardner had promised seasonal regulars from across the country that he would be there to serve their families on Thanksgiving Day.
While making final preparations Wednesday, Gardner proudly brought out a yellowed newspaper clipping announcing the opening of his restaurant. The clip is dated Sept. 2, 1971.
Little has changed in the restaurant since its grand opening, and the interior still harkens back to an old west steakhouse from days gone by. Gardner sat in front of a fireplace, underneath pairs of antlers and snowshoes hung on the wood-paneled walls, as employees bustled about readying place settings for their first meals of the season.
"All the stuff we've added through the years is mementos of people who have worked here," Gardner said.
Gardner raised his family in Steamboat Springs, and although he is unsure what he will do after The Butcher Shop is no more, he plans to remain in the area.
Gardner has played an entrepreneurial role in a number of local businesses throughout the years, many of which no longer exist, including the Harbor Hotel, the Clocktower, the Octagon building, and Steamboat's first discothÃque, which has since become The Inferno.
He learned last spring that the 2007-08 ski season would be The Butcher Shop's last at Ski Time Square, after its buildings and Thunderhead Lodge were sold for $53.9 million to Cafritz Interests, a Washington, D.C.-based real estate developer. Cafritz, along with Colorado-based developer The Atira Group, plans to demolish Ski Time Square sometime next year.
Departures from Ski Time Square have already begun - news of the sale combined with construction woes in the area this summer contributed to Dos Amigos closing in September after 32 years in operation.
The remaining Ski Time Square tenants are currently biding their time, waiting for their 180-day notices to vacate.
Longtime Ski Time Square tenant Tugboat Grill and Pub is trying to go about business as usual, but co-owner Larry Lamb said keeping up employees' spirits has been difficult.
"It's been kind of hard with the uncertainty," said Lamb, who has been with the Tugboat since it opened its doors 36 years ago.
While the Tugboat is considering relocating or becoming a part of the new development, Lamb said there is no guarantee for its future.
Steamboat Trading Co. expects to open this week in advance of the mountain, and it will close its doors at the end of ski season after catering to tourists for a quarter of a century.
Knowing that his days in Ski Time Square are numbered has complicated merchandising for owner Erich Esswein.
"I've kind of got to get it just right - have enough to get through the season and turn a profit, but have nothing on the shelves at the end of the season," Esswein said.
Business owners are dreading the day next year they will see decades of their personal history - and Steamboat's legacy - reduced to rubble.
"It's a shame to see that that's the type of attitude these new investors have," said Daryl Levin, who works as a chef at The Butcher Shop. Levin has worked there for seven years, but has resided in the Yampa Valley and known Gardner for more than three decades.
Concerns about the impending demolition are more than just worries about personal livelihoods. Many tenants said losing the shops, bars and restaurants in Ski Time Square will leave a hole on the mountain that will take years to fill.
"The mountain, the ski area, the industry is going to be devoid of a lot of services that people are used to having," Lamb said. "They don't seem to see the need to do everything in stages, they just want to bulldoze everything."
Levin said he sees Ski Time Square as an "icon" in the Yampa Valley.
"To us, this is a special valley, and we have fought tooth and nail over the years to maintain prosperity and the heritage of the valley," Levin said. "It's been a battle, fighting against the essence of profit."
"Don't get me wrong, it's still special," he said. "But it's changing."