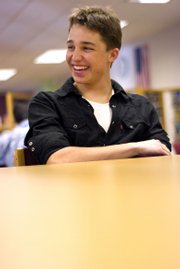 Steamboat Springs — Nancy Mucklow, a mother of two high school boys, says there is no all-encompassing handbook on how to parent a teenager.
"All along, even through the middle school years and into the high school years, I have wanted some pieces of education about how to parent teens, because it's so much different than parenting a toddler," she said.
Mucklow is one of about 20 parents, community members and school officials who have banded together to create a Parent Academy to foster better communication among those who may have some insight into the lives of teens.
The academy is open to all parents of middle and high school students in Routt County.
"This will be an opportunity for them all to get into the same room and to be able to talk and share information and start to build a support system to be able to help raise each other's children," said Shelby DeWolfe, a Steamboat Springs High School counselor.
"It will give them somewhere to go if there is some deeper concern that they know that maybe they can get some extra support, so they know what is normal, what teenagers are going through."
Colorado Mountain College instructor Susan Good will facilitate the academy's first event - a discussion about "Parenting with Love and Logic" at 5 p.m. Tuesday at the high school.
DeWolfe said the lecture is a departure from the traditional method of parenting through strict discipline and a watchful eye.
The method helps children learn responsibility before the price of their mistakes becomes too costly, DeWolfe said. The emphasis is that communication should always be at the forefront of the relationship between parents and their teens.
"We are trying to help parents have the meaningful relationships with their children that they want, and the kids want, too," DeWolfe said.
Involving teens
Colleen Lyon, director of Grand Futures Prevention Coalition, hopes the Parent Academy will incorporate teens into the discussions to help parents and administrators gain some insight into the concerns and problems they face.
"Regardless of all the peer and popular culture pressure that students face, parents still remain the greatest influence on a child," she said. "Any help a parent can get is key. The Parent Academy is great because it provides parents the tools to communicate with a child."
Lyon said a Routt County Parent Survey conducted in 2005 revealed that many parents are not discussing with their children many of the pressing issues facing teens today.
The survey reported that 47 percent of parents last talked with their children about alcohol use four to six months ago, while 47 percent of parents have never told their children to not take alcohol from the home.
"Start talking before they start drinking," Lyon said. "Talking with your child isn't always the easiest thing to do, but I hope that youths are involved in the Parent Academy process."
Lyon added that what she finds most disheartening is another survey conducted in 2005 that revealed more than 70 percent of Steamboat teens said they don't feel valued by the community.
"If youths are involved, then it's definitely showing that adults are valuing youths and teens," she said. "I hope the end results of this is encouraging parents to talk with their children and know the struggles they are going through and facing."
A different perspective
Andy Mucklow, 17, and David Mucklow, 15, said they know they can always talk with their mother, but they too expressed a detachment and lack of support from the community.
"I just don't think adults consider teenagers to be adults," Andy Mucklow said. "It's true, but because of that, they don't respect anything we do."
David Mucklow noted that no matter his age, he feels like the community sees teens as "a bunch of third-graders."
"If we are hanging out downtown with our friends, it's not like we are going around and egging cars and letting the air out of tires," he said. "We are just downtown with our friends having a good time, and people just take it as we are trying to cause some mayhem."
The Mucklow boys said teens in Steamboat get a bad rap because there is nothing to do after 9 p.m.
"If they would leave the high school open at night, a lot of kids would go play at school if they left the lights on," said David Mucklow, a lacrosse player. He said a recreation center wouldn't help the problem if it were operated by the same adults who teens perceive as distrustful of middle school and high school students.
"If we had a (recreation) center, we'd have the same thing as the high school," he said. "They just wouldn't open it."
"We might as well have a high school that is closed all the time," said Drew Ruff, a sophomore.
DeWolfe said the initial meetings for the Parent Academy do not explicitly involve teens, but she noted they are all welcome to attend.
"This is a work in progress and we are putting the puzzle together as we speak," she said. "We don't have the information on how the future of this is going to work."
Networking parents
Kelle Schmidt, a Steamboat Springs High School counselor, said the academy will touch on some unique issues affecting the current generation of teens.
"I think every generation has its own set of problems to deal with," she said. "This generation would be no different in terms of parents just saying 'no' and how to have the tools they need to do that. What we are really looking for is how to network parents together so they can form a support group for one another and be looking out for one another's kids."
However, DeWolfe said issues such as peer pressure around substance abuse and bullying are universal.
"But we are hoping this provides an opportunity for us to do something different," she said. "To make a different impact by pulling in the community and the parents and the education system so we can all get together and wrap around these kids."
DeWolfe said a common concern among parents is knowing what is normal among teens.
"One of the examples we hear is that, 'If I had known it was normal for teenagers to say 'I hate you,' I wouldn't have overreacted,'" she said. "The Parent Academy will give them a baseline from which to respond."
Nancy Mucklow said the academy has grown from the school's Parent Information Committee, which consisted of a group of parents meeting independently of the schools and community resources.
"Everybody was working for the children, but there was little information between all the interested parties," she said. "The staff in the counseling office is trained in (teen issues) and they can bring in some professionalism that parents may not really have. Now we've almost got a unique team and a dovetail there where it's like parent input and staff input."