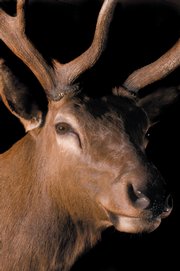 Steamboat Springs — This fall's hunting season began with high hopes and plentiful harvests for archers, muzzle-loaders and early season rifle hunters looking to harvest a trophy bull elk.
The Colorado Division of Wildlife had released numbers generated from an aerial census survey indicating the Bears Ears elk herd (the second largest migratory elk herd in North America) had increased to a booming population of 25,760, with a healthy bull-to-cow ratio of 38-to-100.
The big game animals harvested from higher-elevation Game Management Units near Steamboat Springs came rolling into Steamboat Meat & Seafood Co.. in mid-October.
"In first and second rifle season (Oct. 13 to 17 and Oct. 20 to 28), we'd get 10 to 20 a day and even had 43 come in one day," said Sherry Perez, head butcher at the Meat & Seafood Co.
But what began with a bang ended with a whimper for many rifle hunters in the third and fourth seasons (Nov. 3 to 9 and Nov. 14 to 18) as mild weather threw the herd's typical migratory patterns for a loop.
"We had seven animals total for the fourth season," Perez said. "Last year's third and fourth seasons were down, but not like that - that's ridiculous."
Based on the bountiful first two seasons, Perez and Meat & Seafood Co. owner Bill Hamil said they already had surpassed last year's processing total of 450 animals to 480 so far this year until the marked decrease.
"I've worked in the district 27 years, and we're having nonresidents come in and say it was the hardest they've had with the difficulty in the harvest," DOW district wildlife manager Jim Haskins said.
Haskins said that while the elk movements in lower-lying units, like the ones surrounding Hayden, have less to do with weather than hunting pressure, the higher-elevation units, like the ones surrounding the Mount Zirkel Wilderness Area, are a different story.
"The Zirkels are different - there were a lot of hunters along the Greenville Mine area (National Forest Service Road 440) that were just waiting for elk to come down and didn't," Haskins said.
Rick Myers, a longtime hunting guide for Buck Mountain Outfitters, still sees an unprecedented number of elk (500 to 600 head) in the Pilot Knob area.
"The last day of the season they were still bugling and cow-calling - I've never seen bulls bugle in the fourth season," Myers said. "Last season, with the early snow and with no early coats and how they were in the rut, they left the country.
"This year, they got their winter coats, so they just lay around on the north sides of slopes in the timber. The weather's so nice, they've grown their coats, so they don't do anything."
Myers knows there are plenty of trophy elk waiting at higher elevations, but it doesn't do much good for his clientele.
"Third season was rough - hard and hot, because guys didn't know where (the elk) went," Myers said. "Then by fourth, well, sometimes as an outfitter, you don't get a guy that can climb to the top of a mountain - maybe it's someone from the East Coast or from the low altitude, because the higher you'd go, the better you were."
The strangest thing Myers has noticed is that the annual east-to-west elk migration across Routt County Road 129 seems to have not occurred yet.
"Usually after the rut, the big bulls lay down, then they get re-energized and start to migrate in the third season," said Myers, concerned that when the migration does occur, a sudden dose of heavy weather may trap them in high-country refuges.
"I'm betting that the overall harvest will be down as a result of the weather," Haskins said.
Colorado DOW spokesman Randy Hampton said the division will not generate exact overall harvest numbers until the hunter harvest survey is complete, sometime between January and February.
"There's not going to be any extra seasons, but we do have a lot of late-season tags," Hampton said.
These late-season licenses, some of which run as late as January, are designed to disperse elk off private land. All are cow tags, and most run through Friday, available for GMUs near Steamboat including 3, 4, 5, 214, 301 and 441.
Hampton also said large landowners experiencing damage from big game should contact the DOW by calling the Steamboat office at 870-2197.
"When the harvest numbers come back it will definitely play into the license numbers for next year," Hampton said. "Unfortunately, the weather is one thing we don't have control over - we did our best snow dance but couldn't get any."