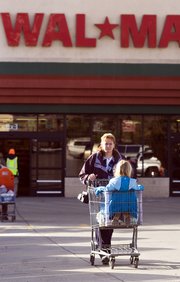 Steamboat Springs — Shoppers turned out in full force to start their Christmas shopping Friday, crowding downtown sidewalks as Steamboat retailers kicked off the holiday season, enticing shoppers with sales and seasonal snacks.
Scores of people awoke early from their turkey-induced slumbers Friday morning to wait in the Wal-Mart parking lot for its 5 a.m. opening, some to get a jump-start on their holiday shopping and others to snag big-ticket items such as flat-screen televisions at special sale prices.
"I was surprised to see how many people were here before I was," said store manager Mark Meade.
Shoppers wandered the downtown streets loaded down with bags Friday afternoon, sipping foam cups of hot apple cider. Locals and vacationers alike peeked in storefronts to check out their holiday window displays.
Downtown stores reported better than usual day-after-Thanksgiving business, which Bucking Rainbow Outfitters owner John Duty attributed to vacationers turning to shopping while the ski slopes remain closed.
"Unfortunately for the mountain, the way conditions are, downtown is being given a big boost," Duty said.
Steamboat Springs resident Kelly Reuter usually avoids shopping on Black Friday due to the crowds, but said she could not resist this year with all the deals available in downtown stores, such as two-for-one sales and free gift-wrapping.
With a friend and her dog in tow, Reuter was happy to be getting her holiday shopping underway on a cool but sunny day.
"Life is good in the 'Boat," Reuter said, as she made a pit stop at her vehicle to unload piles of bags from F.M. Light and Sons and free up her hands for more shopping.
Patti Wiggam, in town from Littleton, came to downtown Steamboat with the intention of doing Christmas shopping for friends and family, but was not making much progress toward her goal.
"So far I've only found things for myself," Wiggam said with a grin.