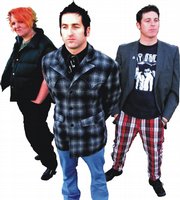 Past Event
Saturday, November 24, 2007, 10 p.m.
Tugboat Grill & Pub, 1860 Ski Time Square Drive, Steamboat Springs
21+ / $5
Steamboat Springs — On a Wednesday afternoon before Thanksgiving, the members of ska-ish Phoenix band Warsaw Poland Bros. are driving around in their van, doing what they do - you know, going to Guitar Center, rockin' and rollin', saving babies from burning buildings.
Anyway, that's what drummer "Mariner" Mike Montgomery says they're doing.
The band is on its way to Steamboat for its annual Thanksgiving weekend gig - a three-date run at The Tugboat Grill & Pub that, after some debate on how long this has been going on, trumpet/keys/pennywhistle player "Ska Queen" settles for "several years."
"There's something special about getting a little restaurant to-go box full of Tugboat mashed potatoes," is Montgomery's explanation of Steamboat's holiday show appeal. "Just like Mom would have made it - if she had been a short order cook."
Warsaw Poland Bros. blends musical styles, but not in the way most bands performing along the Western Slope do.
"We're a straight forward, sharp-shooter, funk jam jazz groove," Montgomery jokes, then actually describes what the band's rotating cast of horns do with their West Coast punk, ska, dub and Celtic influences.
"It's high-energy dance music for drinking and dancing," he says. "We could go from a punk song, right into a ska song, right into a traditional Irish jig."
The band is the founding act of its own indie start-up, Invisible Mass Records. Its members, who shift around from tour to tour, have been known to book dates relentlessly.
The shows at Tugboat on Friday and Saturday night will mark the triumphant return of their lead singer, whom Montgomery says has been out on "vocal hiatus."
If their interviewing skills are any indication, there's little doubt the folks in Warsaw Poland Bros. put on a rollicking good time of a show. Those interviewing skills go something like this:
Warsaw Poland: "We did the Thanksgiving shows back in 2004. We hunkered down in the snow and built ourselves a little snow cave, and we just rocked it out."
4 Points: "How functional are snow caves?"
Warsaw Poland: "Functional? They're still hunting ice whales up there in Steamboat."
4 Points: "I'm not sure if the geography here was ever right for that - ice whales."
Warsaw Poland: "They love their ice whales. I don't want to slight them, and I don't want you to, either."
In more musical terms, Montgomery assures potential listeners that a Warsaw show is a fun one.
"The universal is that it's up, it's loud, it's in your face and it's un-ignorable," he says.
"And if you're not careful, it'll make you dance."