Past Event
Saturday, November 24, 2007, 10 p.m.
Mahogany Ridge Brewery & Grill, 435 Lincoln Ave., Steamboat Springs
21+ / $5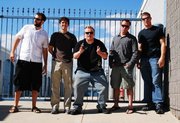 Steamboat Springs — Boulder funk rock sextet The Tao Jones tries to come through Steamboat Springs at least once every couple of months.
That's partly because, as trumpet player Jake Ball said, the crowds the band usually finds at Mahogany Ridge Brewery and Grill are among the most legitimately insane the group plays to.
The band, usually an instrumental act, returns to Mahogany on Saturday with a new, semi-permanent vocalist - an addition Ball said gives The Tao Jones a chance to throw in more covers and pump up the jams.
Ball spoke with 4 Points about the band's high-energy show, feeding off the crowd and what, if anything, a "funk-inflected odyssey" would be.
4 Points: What will the show be like on Saturday?
Jake Ball: This Saturday we're just going to come out and really have a high-energy show and have a big party up there, you know? The music we play is really high-energy rock and funky dance-type music. The whole goal of the show is to make people dance and move. And I like to yell at people in the microphone and tell people to shake their ass.
4 Points: Anything different about this set than the last time you guys were here?
JB: We're an instrumental horn-based band, and we have a female vocalist that we use for our big shows in Boulder. Now she's becoming more of a mainstay. We do a variety of covers with this chick, and she's amazing. We do everything from Led Zeppelin to funk.
4 Points: So, looking at the band's Web site, and I have to ask about this: The first descriptive phrase here is that The Tao Jones will take its listeners on a "funk inflected odyssey across the musical landscape." What does that mean?
JB: I don't know, I don't write the Web site. Jesus, I have no idea. We definitely fall into the jam band category, so we get really creative. We like to push the boundaries of the music - sometimes it might be hard to listen to for the ear; we push the listener.
4 Points: What does that bring to the show - to push listeners a little beyond what they might expect from a jam show?
JB: Every night everywhere you go is going to be different. So say we're playing in Crested Butte on Friday night, and if we play this one song I wrote there, it might sound completely different than it would on Saturday at Mahogany.
It's just a real challenge to try to meet the requirements of wherever you're at musically, so we try to play to the audience and play off the audience.
The more we get out of a crowd, the more we're going to give.