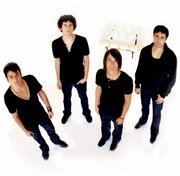 Steamboat Springs — One Year Yesterday frontman Tyler Johnson doesn't parse words about what his band is doing.
"We have this kind of joke - you read about so many bands where a reporter will ask them what their style of music is like, and they're elusive and say that they can't be defined," Johnson said.
"We're always like, 'We're pop music and that's it.' That's just what we are."
The band, a four-piece out of Los Angeles that plays polished pop rock and makes no attempt to hide its influences, boasts two hometown musicians. Johnson and drummer Nate Lotz went to Steamboat Springs High School together.
On One Year Yesterday's debut, "Be There For You," the influences of John Mayer, Maroon 5, Coldplay, Van Morrison and The Beatles couldn't be more clear. The resulting collection of 10 tracks is expertly produced and easy on radio-sensitized ears.
"We're not trying to be complex or different, because some of the greatest music is just enjoyable," Johnson said. "We just want to be enjoyable to people."
The album is available on iTunes, and the band attracted a crowd of about 400 people for its release party at The Roxy Theatre in L.A.
When the band's two locally grown members left for school in California, their aspirations for releasing a record on a major label weren't even a thought.
"We played together in cover bands in high school, and I think Tyler wrote some original music, and I would play along with it, but it wasn't anything big," Lotz said.
Then Johnson, a senior at Azusa Pacific University, performed in a battle of the bands at school and heard how writing partner/guitarist Daniel Sinner plays guitar.
"Tyler called me and said, 'I've got this great guitar player, his sound is like what I used to describe in high school as this ideal guitar player,'" Lotz said. So Lotz, who goes to the Musicians Institute in Hollywood, drove the half-hour to Azusa and jammed with Johnson and Sinner.
"We would just mess around, and we would dim the lights and be kind of silly and not really do anything," Lotz said. "But after the first two months of it being kind of a joke, it started becoming kind of regular."
Somewhere in there, Sinner's parents heard that regular sound, and had the guys record a rough three-song demo.
"We went in and we recorded this demo, and the guy who recorded it, he sat us down one morning, and he told us that he thought that this could maybe do something," Lotz sad. "Maybe not that demo, but just us together collaborating and songwriting could do something. He told us to take it seriously, for our sake."
The band heard from music professionals that the record industry these days demands an LP from an act before any big label will consider signing. Johnson contacted Azusa grad Troy Welstad to produce the album, and the 10-month recording process for "Be There For You" began.
Welstad's pop sensibilities gave One Year Yesterday's 14-song set the trim direction it needed, Johnson said.
"His attention to detail and how to make songs truly pop-oriented were just right on," he said.
The finished CD doesn't sound much like Lotz initially envisioned it, the drummer said, but he attributes that partially to the band's personality being a little scattershot at the start.
"Half the songs we thought we were going to be a funk rock pop band, like maybe Maroon 5-ish. The other half we thought we were going to be U2," Lotz said. "Then we kind of realized we don't have the funk in us.
"I didn't know what the band was, but now that it's done, it'd be safe to say that we're a rock band."
Johnson hopes for a big-name record contract and national distribution. And he'd like to land them without changing what the band already has in place.
"We believe that we have the potential, and there's other people who believe that we have the potential," he said. "We know our influences and who we sound similar to. But we're trying to find a niche.
"We don't think it's this totally new sound - we like pop music."
"Be There For You" by One Year Yesterday is available on iTunes and at All That Jazz.